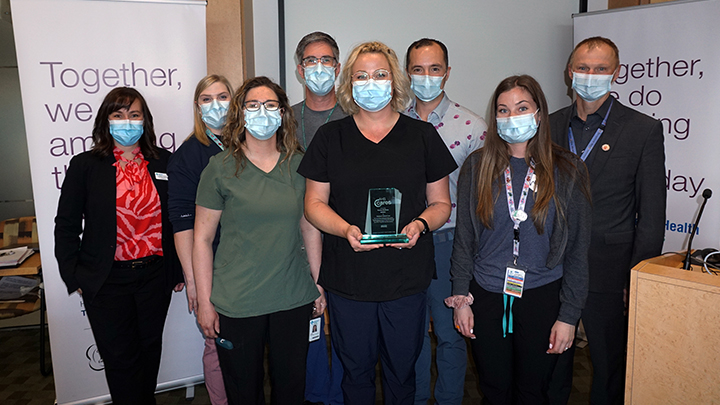 Some of the CARES Award-winning members of the Nuclear Medicine team at Red Deer Regional Hospital Centre (RDRHC) are, from left: Leane Young, director of Diagnostic Imaging; Taylor Kentel; Susan Gessleman; Ryan Campbell; Brittany Wilton; Dr. Jason Prevost of Diagnostic Radiology; Brittnee Young; and Peter Froese, senior operating officer of Diagnostic Imaging. Photo by Tracy Kennedy.
Red Deer Nuclear Medicine goes above & beyond to win award
Story & Photo by Tracy Kennedy
RED DEER — Undergoing a nuclear medicine scan to detect a tumor or heart disease can be one of life's more nerve-wracking moments, but having your questions answered and hand held go a long way to calm fears. It's this kindness for patients — along with support for one another and a readiness to pitch in where needed — that's earned an Alberta Health Services (AHS) CARES award for the Nuclear Medicine team at Red Deer Regional Hospital Centre.
The CARES Awards recognize individuals and teams who go above and beyond their everyday job duties, demonstrating the AHS values of compassion, accountability, respect, excellence and safety (CARES). The Patient/Client Care category, for which the team was recognized, honours those who consistently demonstrate exceptional client service and have achieved outstanding results that have a significant positive impact on the lives of patients and their families, staff or physicians.
"My team has had such positive attitudes through the pandemic. They always have compassion and time for patients — and a smile under the mask," says Brittany Wilton, supervisor for Nuclear Medicine, a method of diagnostic imaging that uses small amounts of radioactive material to examine the function of organ systems and diagnose issues.
"I have consistently received glowing feedback from patients who have described our staff as welcoming, kind and thoughtful. They also take care of one another, going above and beyond to do mental health check-ins and reach out on a personal level. The morale and support they provide to each other is astounding."
In addition to Wilton, the Nuclear Medicine team includes: Carla Domonkos, Liza Grechko, Ryan Campbell, Taylor Kentel, Brookelynn Louma, Brittnee Young, Susan Gessleman, Melanie Wiley, Lynne Entz, Chelsey Sumbang and Renee Harder.
The small but mighty team of 12 provides support beyond the walls of the Nuclear Medicine department. As the pandemic introduced new priorities and brought new pressures to bear on healthcare, the staff responded, helping other teams with CT scans and other diagnostic imaging needs within their scope of practice. They also helped other teams with PPE coaching and infection-control standards.
"Any avenue we could seek to help others, we would," adds Wilton.
For Leane Young, director of Diagnostic Imaging (DI), that flexibility and accountability towards one another and Red Deer Regional is something for which she's grateful.
"I'm so incredibly proud of the staff. They are always willing to lend a hand and take changes in stride," says Young. "I really can see that patient care is the centre of what they do, and why they came into this profession."
She appreciates the opportunity to praise her team through the CARES award, noting the value of recognition.
"There are so many examples of good work being done. Our entire DI department has been through so much throughout the pandemic. It's imperative for people to know that what they do every day is important — to their coworkers, to our department and especially to their patients."