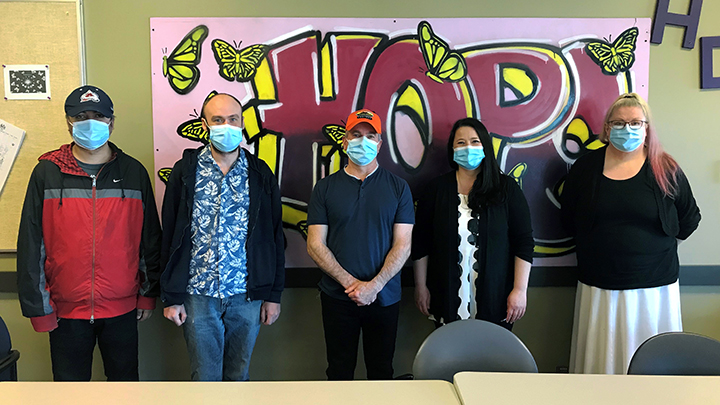 Peer-support worker Yvonne Benson, second from right, poses with program participants at the Carnat Centre in Calgary. Photo by Melanie Veriotes.
'Shelter in the storm' for people facing mental health challenges
Story & Photo by Melanie Veriotes
CALGARY — People living with mental health and addictions challenges have many options for support in the community, but for one client, Devin, his "shelter in the storm" has been the Carnat Centre.
"The Carnat Centre is a unique program that provides support to clients experiencing more severe to complex addictions and mental health issues," says Tracey Labbie, manager of Community Addictions and Mental Health, NE Campus.
"We have a really strong peer-support component and multidisciplinary team who work with clients to promote facets of independence that they can use in their recovery journey."
With a bright environment — and a wall with the word "hope" splashed across it — clients are welcomed to a place where they can express themselves individually through art or in a group setting through discussions.
During the pandemic, the centre offered peer-support groups via Zoom, but has recently resumed in-person sessions.
As one example, the centre brings clients together for a psychiatrist-led group discussion on a variety of current topics that allows for anyone to contribute and benefit from social interaction and peer support. A recent discussion ranged from how to process news about the war in Ukraine to thoughts on climate change, and even predictions on the NHL hockey playoffs.
Peer-support worker Yvonne Benson says: "We connect on that peer-to-peer level and come together and build a community that complements the clinical supports that are offered here at the Carnat Centre."
Benson, a centre employee for four years, adds: "We're able to really connect with individuals here and support so many diverse needs."
When asked why people should come to the Carnat Centre, participant Suzanne gives a ringing endorsement: "It's a great place to be. People are friendly — and you meet a lot of friends. The staff are great here and very supportive. They help you with your needs."
---
Learn more about the Carnat Centre and its peer-support programs.