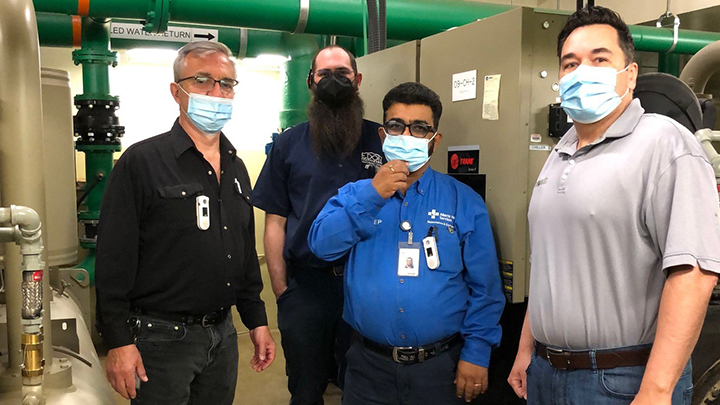 Members of the Fort McMurray Facilities, Maintenance and Engineering (FM&E) team — Jim Ireland, left, Rylan Barlow, Sundeep Sharma and Jimmy Aumont — regularly review emergency preparedness and response plans. Photo supplied.
Plans in place ensure healthcare during wildfires, floods and disasters
Story by Logan Clow
FORT McMURRAY — Being ready to respond to floods, wildfires and other emergencies is all in a day's work for Alberta Health Services (AHS) staff — including the Facilities, Maintenance and Engineering (FM&E) team at the Northern Lights Regional Health Centre.
Emergency and Disaster Management (EDM) response plans are in place across the breadth of AHS to ensure the organization is prepared to effectively respond to any emergency or disaster. In Fort McMurray, these plans were put into action in 2016 when the hospital was evacuated due to wildfire, and again in 2020 when ice jams in the rivers flooded the community.
"We always work with the mindset of 'what if your family, or someone like your mom was receiving care in the hospital,'" says Jimmy Aumont, facilities manager, Northern Lights Regional Health Centre.
"Part of this work is ensuring that our FM&E staff are regularly reviewing our emergency preparedness and response plans, and completing training as required. Our priority is always ensuring the hospital is operating safely and efficiently for our patients and staff."
Response plans also support staff and patient safety, ensure continuous patient care, and minimize any potential negative health effects (physical and psychological) during any emergency or disaster. Planning also takes into account the potential need to transport patients via ground or air ambulance out of the emergency or disaster area to other healthcare centres.
When wildfires came within sight of the Northern Lights Regional Health Centre in 2016, 73 acute care patients and 32 continuing care clients were successfully and safely evacuated in under two hours.
"Our response plans encompass an all-hazards approach, and include prevention, protection, preparedness, response, and recovery. These plans support a safe, collaborative, effective and methodical incident response," says Matthew Wattie, AHS Emergency and Disaster Management officer, North Zone.

"Our EDM teams work with AHS sites year-round to ensure we're promoting a culture of awareness of emergency-response plans. That includes offering EDM training to staff, as well as working with our sites to develop, review, revise and or/update their site-specific emergency response and contingency plans."
AHS EDM staff monitor and assess potential emergency and or disaster risks/threats on a regular basis year-round. This includes watching wildfire activity, weather conditions, river water levels during the spring breakup and communicable diseases.
"We're continuously reviewing and assessing our emergency and disaster response preparedness across the organization," Wattie adds. "A disaster or emergency can occur at any moment, so it's important we are ready to successfully respond."
AHS uses an Incident Management System to ensure effective, timely and collaborative management of any emergency or disaster incident. Many require a collaborative approach that includes personnel and resources across multiple sites, services or jurisdictions within a zone or the province; several levels of government and non-governmental organizations; and the private sector.
AHS staff also complete Emergency & Disaster management training modules annually, and familiarize themselves with emergency response codes so they're prepared for situations that could include fires, bomb threats, mass casualty events or evacuations.
"Our Northern Lights Regional Health Centre staff and teams regularly review emergency response plans," says Jordanna Lambert, senior operating officer, Fort McMurray.
"Ultimately, in any event, it's important our teams know how to support protective actions for patient safety, such as an evacuation or sheltering in-place. It's equally important for our staff to familiarize themselves with actions they can take to support the continuity of safe patient-care services."
During an emergency or disaster, Wattie says AHS works to give all stakeholders the health-related information they need.
"It's important our stakeholders and partners know what our continuity of patient-care plans are — and how we plan to support the community and residents in distress," says Wattie.
Aumont, Wattie and Lambert are among many staff who assisted with AHS' emergency response and recovery following the 2016 wildfire and 2020 flooding in Fort McMurray.
"Both the wildfire and flooding were unique situations to go through because they don't happen every day. I think our FM&E staff, and all AHS staff involved in those responses, did some incredible work," says Aumont.

"I think we all collectively learned a few things from those responses, and incorporated them into our emergency preparedness and response plans."
---
Learn how you and your family can prepare for an emergency.