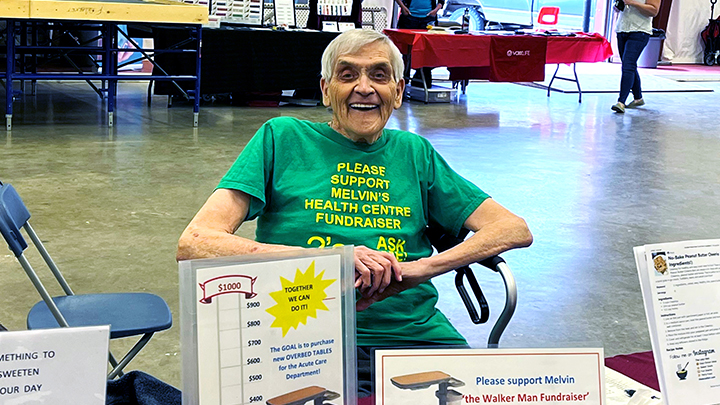 Three Hills resident, Melvin Wright inspires the people around him with his fundraising efforts. Wright regularly sells honey at the Three Hills Farmers' Market to support the Three Hills Health Centre and other worthy causes. Photo by Melissa Gunn.
Three Hills resident sells homespun honey for healthcare
Story by Amelia Schofield | Photo by Melissa Gunn
THREE HILLS — Melvin Wright is one sweet inspiration when it comes to his fundraising efforts for local healthcare and other worthy causes.
Since 2019, the local resident has sold honey at the Three Hills Farmers' Market to raise funds in support of the Three Hills Health Centre. His efforts have successfully funded several pieces of equipment, including a TRAM (transfer and mobility device), lift chair, Broda chair and blood-pressure machine. He's now focused on fundraising for new overbed tables throughout the facility.
"My first fundraising project was a TRAM for physiotherapy," says Wright, who turned 91 this past spring. "I have a very generous community and, with their support, I was able to raise more than $10,000 for that equipment."
"Melvin's efforts have supported a variety of needs for our hospital," says Ruth Wold, site manager, Three Hills Health Centre. "The overbed tables he's currently fundraising for will provide more of our patients with a comfortable and accessible surface for meal trays and personal items during their stay."
Wright began his fundraising journey in 2011 when he walked 50 km to support cancer care. He was motivated to take on the challenge after his wife was diagnosed with cancer. To date, he's held more than 35 fundraisers for a variety of causes including the Health Centre, multiple sclerosis (MS), cancer and the local library, to name a few.
"I always want to remember that what I do, I do for others," he says. "That's why I'm inspired to keep doing what I'm doing."
Wright also gives credit to McKenzie's Country Farm, a local business that produces honey in the area.
"They've supported all of my fundraising, whether it's for MS, cancer, the library or the hospital," he adds. "They will always ask me what I need — and have been very generous toward my fundraisers."
Along the way, his other boosters have included the Three Hills Health Care Centre Auxiliary. Wright makes his donations to the Auxiliary, who have also contributed funds toward his fundraising endeavours.
"It's important to us to support him because he's helping improve healthcare in our community," says Marion Johnson, president of the Auxiliary.
"We are incredibly grateful to Melvin for his heartfelt support," says Wold. "We're fortunate to have such a giving individual contributing toward the needs of our hospital — and we couldn't be more thankful to him for all he's done to improve healthcare for our community."
---
To support Melvin Wright in his fundraising efforts, visit the Three Hills Farmers' Market on Tuesdays.