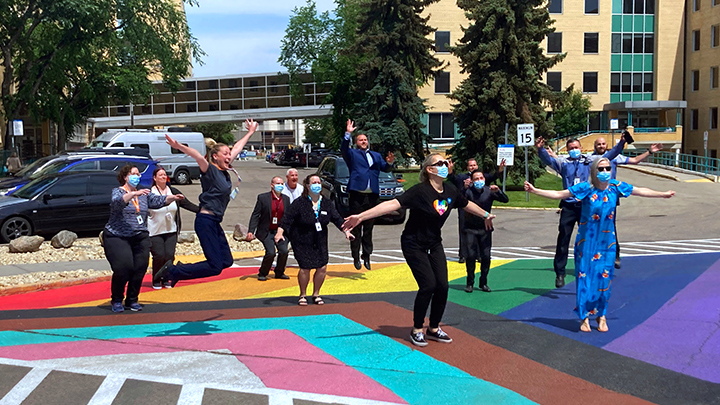 Staff and physicians at the Royal Alexandra Hospital celebrated the unveiling of a new Progress Pride flag during Pride Month. Photo by Tyson Kaban.
New Pride crosswalk welcomes all to Edmonton hospital
Story by Sharman Hnatiuk | Photo by Tyson Kaban
EDMONTON — Heavy rains throughout Pride Month couldn't keep the Royal Alexandra Hospital from showing off the biggest rainbow the site has ever seen.
On the final weekend of June, the Facilities, Maintenance and Engineering (FME) team took advantage of a break in the weather to paint a Progress Pride flag to celebrate people who are lesbian, gay, bisexual, transgender, queer, questioning and two spirit (LGBTQ2S+) and their allies.
"This symbol is a big message to our patient and families that you belong here, you are welcome here, and we are going to care for you," says Marni Panas, program manager, Diversity and Inclusion, Alberta Health Services (AHS). "As a staff member, I couldn't be prouder of where I work."
The immense flag was painted where three crosswalks intersect in a high-traffic area of the Royal Alex. Site leadership worked with site FME and the AHS Diversity and Inclusion team to install the permanent fixture after a staff member saw that Pride crosswalks had been painted at Alberta Hospital Edmonton in 2021 — and longed to see similar inclusive imagery at the Royal Alex.
"What started with one nurse asking for a symbol to celebrate diversity at the site became a project that many different people and teams were able to be a part of," says Abbey Birch, site executive director. "It really is a team effort we can all celebrate."
The flag was first painted at the start of Pride month, but due to unexpected rainfall, the colours were compromised and the blended image had to be pressure-washed away.
"The commitment of our facilities team to persevere and get it repainted during Pride month must be recognized," adds Birch.
"It demonstrates the site's commitment to our staff, as well as to our patients and families, that we want to be inclusive, and that marginalized individuals from the LGBTQ2S+ are welcome here. "
Tyson Kaban, unit manager at the Royal Alex, is happy to see the symbol of representation on full display for patients, families and staff as they arrive at the hospital.
"As someone who identifies as gay, I do think this is a great step that we have something permanent," he says. "I think it's going to be great for people like me, for our patients, and for our staff."