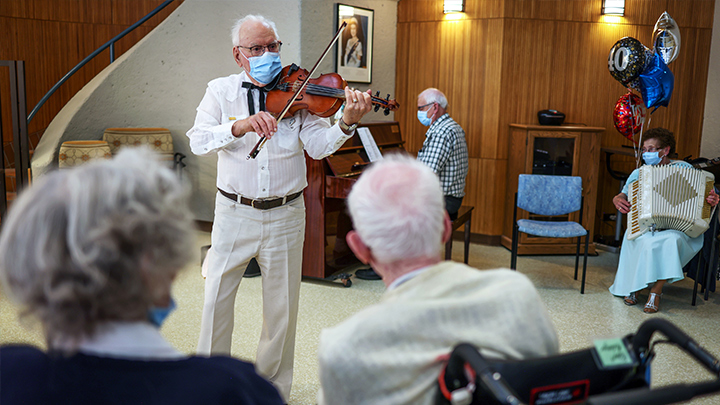 Reginald (Reg) Evans and his violin have been musical fixtures at High River General Hospital since it welcomed patients in 1982. A true crowd-pleaser, he'll be turning 98 this month. Photo by Leah Hennel.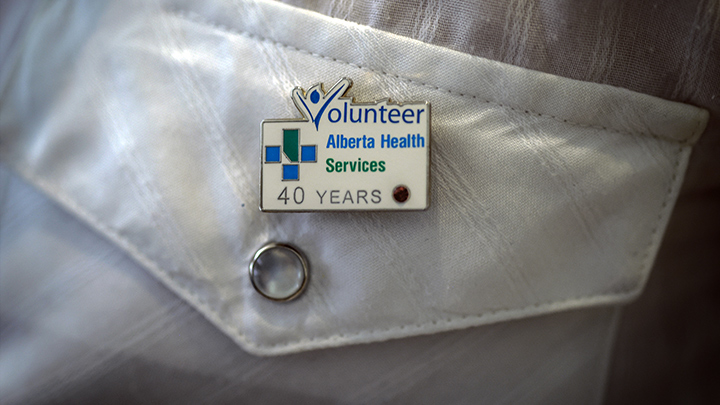 Reg's 40-year Alberta Health Services volunteer pin says it all — and he's still going strong. Photo by Leah Hennel.
Volunteer fiddler, 98, still rosins the bow to delight High River patients
Story by Scott Cruickshank | Photos by Leah Hennel
HIGH RIVER — For 40 years, Reginald (Reg) Evans has provided the soundtrack for High River General Hospital.
Because whenever he can, Evans polishes up his violin and performs for appreciative audiences.
"They treat me good here," he says with a laugh. "I just enjoy coming over and playing for the folks. You know, the good Lord gave me the gift of music, and I still share it."
Even as his 98th birthday arrives on July 18, Evans continues to volunteer at the hospital, often with his band, Reg and Friends. On the long-term care unit especially, they're a hit.
"Reg is an amazing, young-spirited fellow," says Grace Ledoux, volunteer resources coordinator. "He came on as a new volunteer when we moved into the new hospital here in 1982, and he's had many other musicians follow with him.
"We are so grateful. The residents love it — and it's very therapeutic."
Outlining the importance of music, recreation therapist Ella Fung notes that the hospital features engagement programs such as hand bells and drumming. And, occasionally, country singers are brought in to play "cowboy music" in the long-term care unit.
"Music is a big component of our residents' lives, especially in the rural area. They grew up with music," says Fung.
"So when they come in here, they sometimes feel a lack of belonging because they cannot do things they used to do — go and listen to music, go dancing — so we try our best to bring that life back for them to enjoy.
"If a resident has a not very good day, as soon as they hear music ... they go down that musical Memory Lane."
Evans — whose set list always includes his favourite tune, Red Wing — says he's happy to offer an emotional lift as often as he can, for as long as he can.
After all, he believes that staying busy is the key to his own longevity.
"I just keep exercising," says Evans. "I never sit down and give up, you know what I mean? I walk a mile every morning when I get up. I keep limbered up. It keeps my mind working."