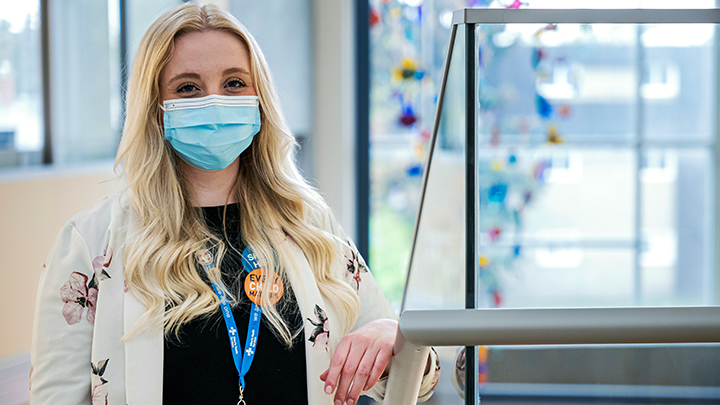 Rhiannon Leslie, a public health nurse with AHS, is based at East Edmonton Health Centre. She's been instrumental in helping coordinate the partnership between public health and the New Canadians Health Centre. Public Health works to make sure newly-arrived, government-funded refugees have access to immunizations and other important healthcare services. Photo by Evan Isbister.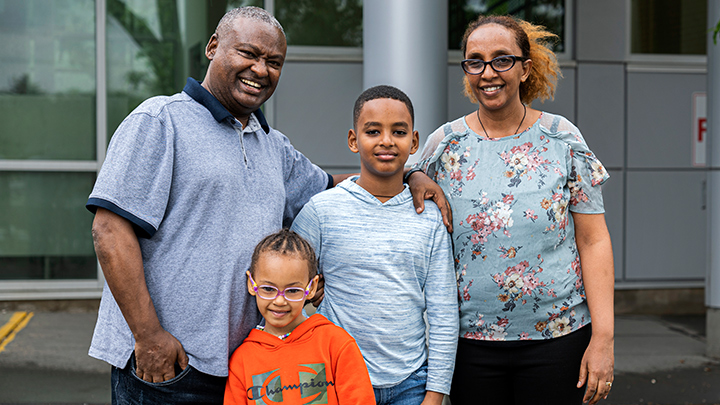 Biru Mengesha Shiferaw, left, and Elisabethe Shenkoru Tessem arrived in Canada in August 2021 with their children Getachew, middle, and Lielt, in front. They left their home in Ethiopia in search of a safe place to live and are grateful for the welcome they've received in Edmonton, including help from both AHS Public Health and the New Canadians Health Centre. Photo by Evan Isbister.
AHS teams up with New Canadians Health Centre to ensure their well-being
Story by Kirsten Goruk | Photos by Evan Isbister
EDMONTON — When government-sponsored refugees arrive in Canada, they've often left behind everything they know in search of safety and security for themselves and their loved ones.
Refugees who arrive in Edmonton are immediately supported by the New Canadians Health Centre (NCHC), which also collaborates with Alberta Health Services (AHS) to ensure every person is cared for right away.
"The New Canadians Health Centre will refer every government-assisted refugee to us — and our team at the East Edmonton Health Centre will connect them to their closest public health centre," says public health nurse Rhiannon Leslie. "We do an assessment for vaccine history, overall health history and review any relevant bloodwork."
One of the families helped by Leslie arrived in Edmonton last August. Biru Mengesha Shiferaw, his wife Elisabethe and their children Getachew and Lielt had to leave their home because of the political situation in Ethiopia.
"It was hard. We didn't know any places. We didn't own anything, we didn't know where to buy our groceries … still we are feeling OK. We are secured and living peacefully," says Biru, who adds that AHS' Edmonton Zone public health team has treated them like family and they're so thankful for the help and support.
It's vital to make a connection early on, so refugees will know where to go when they're sick, and how to ask for help. Astrid Velasquez, executive director for the NCHC, says she's grateful for both the funding AHS provides to the centre as well as its partnership in care.
"Our clients do not know how to navigate the health system. So for us, teaching them and showing them how to do that is very important," says Velasquez. "We take them with us, we show them how to, you know, go to the different places including hospitals, how to advocate for themselves, because many of our clients, they don't speak English."
Since she began working with refugee families last year, Leslie has helped people from Afghanistan, Ethiopia, Sudan, the Democratic Republic of the Congo and Eritrea, to name a few countries. She estimates the immunization program has seen about 500 referrals since the fall.
While it's well-known how important immunizations are in keeping not only individuals safe, but in promoting healthier communities overall, Leslie recognizes that their work is about so much more than that.
"I've seen quiet and hesitant families in their first appointments blossom into confident and engaged participants in their own health following their next appointments," she says.
"It's really a privilege to be one of the first healthcare providers to welcome these new families to our public health centres. And I look forward to working with these families for years to come."