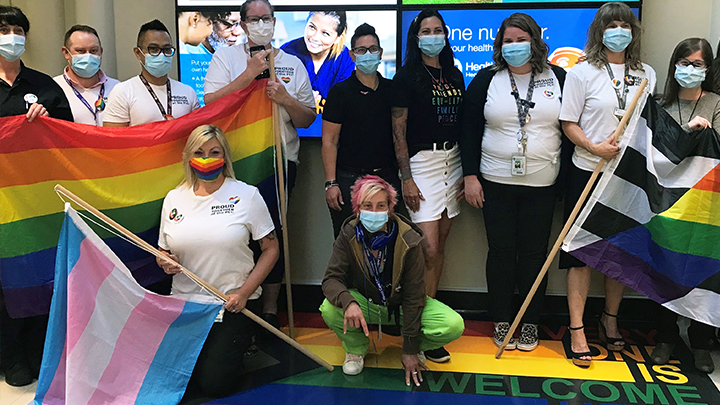 The team at Peter Lougheed Centre stand with PRIDE on their new flooring. Photo by Melanie Veriotes.
Rainbow flooring promotes diversity at Peter Lougheed
Story & photo by Melanie Veriotes
CALGARY — The entrance of the Peter Lougheed Centre (PLC) now offers a warm rainbow welcome after the recent unveiling of a Pride flooring project in support of people who are lesbian, gay, bisexual, transgender, queer, questioning and two spirt (LGBTQ2S+), and their allies.
The idea originated with Proud Together, a site-based group formed in 2019. Glenda Durupt, manager of Cardiac Sciences and committee chair, says that after a call for designs last summer, the group received 50 submissions, which they narrowed to six and put to a vote during last year's Calgary Pride.
The successful applicants — Aviva Scheckter, Protective Services site manager and Courtney Johnson, clinical nurse educator at the PLC — who put forth nearly-identical designs, were named co-designers of the flooring.
Of her design, Johnson says: "I wanted to create something that was welcoming to all of the people coming into the PLC to demonstrate what we're working towards with diversity and inclusion."
Co-designer Scheckter says that, as part of the protective services team, "It was important to me to have visual representation to know that everyone is welcome here. That no matter who you are, you are safe and you are welcome here."
Scheckter adds that the location of the flooring is a happy space for her — it's near the railing where she and her fiancé first spoke to each other a decade ago during the hospital's 25th anniversary. The couple plan to marry next year.
Durupt says members of the Proud Together group are thrilled to see the floor finally unveiled, noting that when the team formed, their goal was to be an ally as a site within AHS for SOGIE (Sexual Orientation, Gender Identity and Expression) issues and opportunities that impact staff, patients and partners. This floor certainly takes a step in that direction.
Nicholas Thain, senior operating officer for the PLC, shares the message he wants to get across to physicians, staff, volunteers and patients:
"Everyone is welcome at the PLC. No matter who you are, or what you believe, we're here to support you."