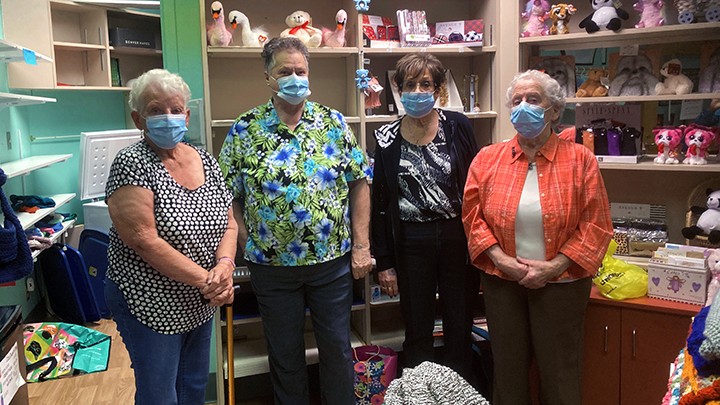 For more than 80 years, the Olds Hospital Auxiliary has given countless hours to support the Olds Hospital and Care Centre. Auxiliary members include, from left, Shirley Cottrell, Rosemary Anhorn, Patricia Graham and auxiliary president Leola McBeath. Photo by Kevin Land.
Community says thank-you for more than 80 years of giving
Story by Amelia Schofield | Photo by Kevin Land
OLDS — Since 1939, the volunteers of the Olds Hospital Auxiliary have given countless hours to support the care and comfort of patients at the Olds Hospital and Care Centre.
For more than eight decades, the auxiliary has assisted the hospital by running a gift shop, serving social teas, tending to the gardens, providing entertainment for patients and fundraising for new medical equipment throughout the facility.
"My favourite part of volunteering with the auxiliary has been working in the gift shop and seeing the people," says Leola McBeath, auxiliary president. "I've enjoyed being friendly with the patients and spending time with them."
The auxiliary has also contributed greatly to improving the lives of long-term care residents. Members have hosted bingo nights, served ice cream treats, catered birthday parties and chipped in to help buy Christmas gifts every year.
"I've had the pleasure of working with many auxiliary members over the past 25 years. We're thankful for their service to the hospital community and grateful for their time and support over many years. The smallest gesture can make such a huge impact," says Angela Sandberg, recreation therapist with Long Term Care in Olds and Sundre.
The auxiliary is also well-known for its fundraising efforts in the community, including a fall fair and quilt raffles that took place for many years.
"The whole community would get involved with the fall fair and in one day, we would raise $10,000 for the hospital. It was a beautiful event," adds McBeath.
"I'm especially proud of the quilt raffle we would hold twice a year. The local group, Threads of Kindness, would donate the quilt to us, and we would support them with money and fabric," she says. "It was one of the nicest things we've done."
After many years of service to the Olds Hospital and Care Centre, the auxiliary recently decided to retire as a society.
"I've been a member for many years, and when I joined, we had over 30 members. We were down to 13 members and it made it hard to continue our activities," says McBeath. "We contributed a lot to the hospital and we were sad to make this decision."
"Thank you to Leola and the many dedicated volunteers who have been a part of the auxiliary over the years," says Kevin Land, AHS volunteer coordinator for Olds Hospital and Care Centre and the Myron Thompson Health Centre in Sundre.
"We'll greatly miss them and appreciate their many years of support."
Wayne Krejci, site manager of the Olds Hospital and Care Centre, adds: "For over 80 years, the auxiliary has made many significant contributions to our hospital and have made an immeasurable impact on our community.
"We will always be grateful for everything they have done to enhance care for our patients and to support our team of healthcare providers at the hospital."