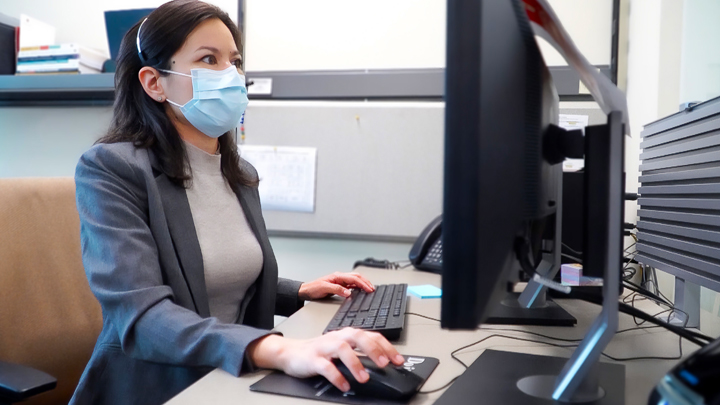 Dr. Jenny Edge, a physician with the Virtual MD pilot program, supports Health Link callers across the province by offering virtual appointments. Photo by Paul Rotzinger.
Pilot reflects AHS' goal to support Albertans in their communities
Story by Christine Harris | Photo by Paul Rotzinger
A new program, Virtual MD, can now connect Health Link callers by phone or video directly to physicians. The pilot reflects Alberta Health Services' (AHS) progress in finding innovative ways to better support the care of Albertans in their home communities.
Under the Virtual MD program launched earlier this year, Health Link 811 callers needing medical assessment can be referred, where clinically appropriate, to a physician to virtually assess them over the phone or through a secure Zoom link. This helps Health Link to ensure Albertans are directed to appropriate healthcare support while reducing potentially unnecessary visits to the hospital.
According to Dr. Jenny Edge, a physician currently supporting the pilot, one of the most compelling aspects of the Virtual MD initiative is the ability to serve patients in their home environments, and increase their access to physician services through the use of remote technologies.
"Sometimes patients just want to have their health-related questions answered in a timely manner by a medical professional, and I can address their concerns in a simple phone call," she says.
"Many patients' anxieties are often relieved when I can answer their questions in real time, offer helpful explanations and provide clear-cut directions on when to seek higher levels of care or call 911 for help."
Since the program's January launch, physicians on Virtual MD have each assessed an average of 50 Health Link callers per day. As well as giving callers remote access to a physician, the pilot also aims to establish new ways AHS can support the capacity of healthcare sites at critical points in time.
Chelsea Quigg, a Registered Nurse at Health Link, has observed how the program benefits patients and sees its potential to further improve the efficiency of the healthcare system.
"One of the goals of our nurse advice line is to connect callers with the right type of care at the right time," says Quigg. "By enabling us to connect patients to a physician, the Virtual MD program can improve the availability of our urgent care and emergency departments to care for those with more medically complex concerns."
To date, more than 7,600 patients have been assessed by a program physician, with 4,200 of these patients able to manage at home with self-care. This represents a significant number of individuals who may have otherwise visited an Emergency Department unnecessarily — and who were able to avoid the trip as a result of being triaged to a Health Link physician.
"This has been incredibly valuable to patients in rural and remote areas with limited access to medical care, mobility impairment or transportation barriers, and for those affected by COVID-19 illness isolating at home," says Dr. Edge. It is incredibly rewarding to provide guidance and reassurance to patients, particularly when we can create a collaborative care plan during our virtual visit."
When Albertans contact Health Link 811, a Registered Nurse or clinical staff member will provide an assessment to identify whether they're in need of further assessment with a physician. If the patient meets referral criteria, they will be connected with a virtual physician.
"After a patient has had their concerns pre-screened and triaged, I consult directly with them by listening to their concerns and providing medical advice to the best of my ability in a virtual environment," Dr. Edge adds. "This can include triaging patients to the Emergency Department, walk-in clinics or providing prescriptions over the phone where appropriate."
---
While the Virtual MD program is in its pilot phase, many AHS providers offer virtual-care options. If you're interested in virtual care, ask your healthcare provider if this is an option for you.