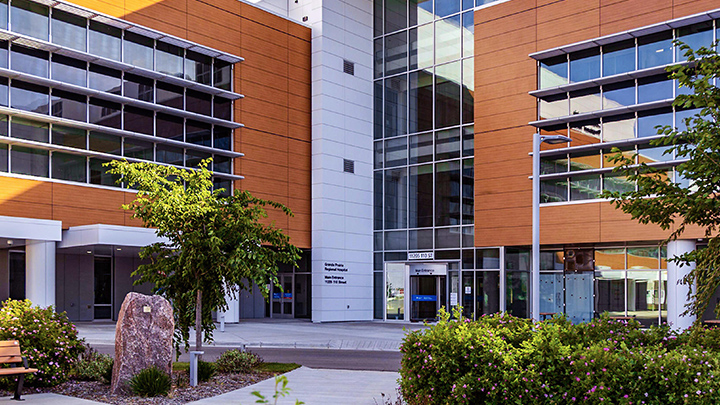 Alberta Health Services hosted a community celebration at its new Grande Prairie Regional Hospital on Aug. 27 for area residents, stakeholders, staff and physicians. The event recognized the dedicated healthcare teams, patients, communities, partners and everyone who has helped along the journey to create this long-awaited new facility. Photo supplied.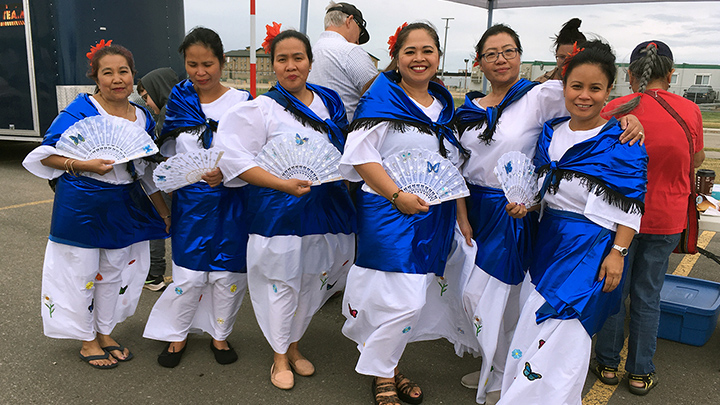 The Filipina Dancers of Grande Prairie were one of the groups who performed at the festivities for the Grande Prairie Regional Hospital Community Celebration in August. Photo by Sara Blake.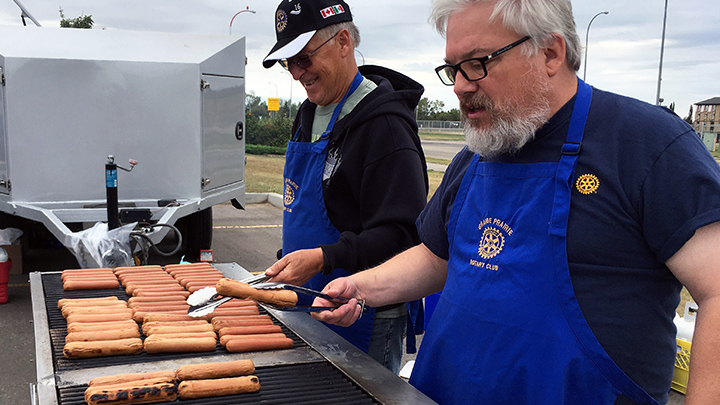 The grill team kept it sizzling by serving around 1,400 burgers and hotdogs at a free barbecue throughout the day, made possible by generous donors and sponsors in the Grande Prairie community. Photo by Sara Blake.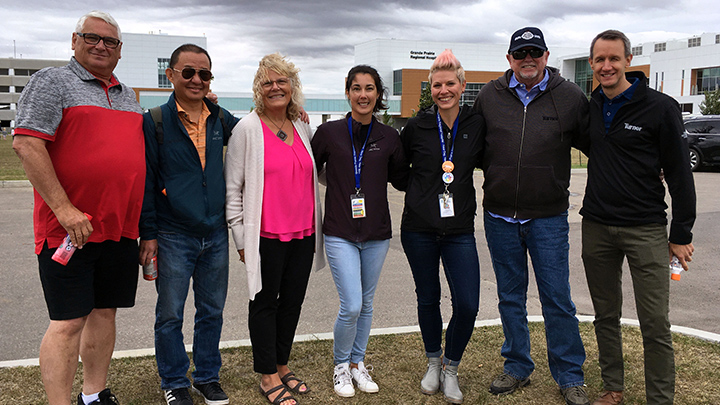 Members of the Grande Prairie Regional Hospital planning team gather with representatives from Alberta Infrastructure, Clark Builders and Dialogue Design. Photo by Sara Blake.
Residents join staff and volunteers for tours, barbecue and entertainment
Story & Photo by Sara Blake
GRANDE PRAIRIE – Patients, families and community stakeholders from throughout the region recently joined staff, physicians and volunteers to celebrate their new Grande Prairie Regional Hospital.
The festivities included a free barbecue, performances, information displays by hospital departments and community agencies, as well as guided tours through public areas of the facility.
"The opening of the new hospital is an important milestone to celebrate," says Candice Edey, AHS senior operating officer for Grande Prairie.
"Now that we're able, we're excited to finally share GPRH with the communities and people we serve and to express our gratitude to those who helped make the facility a reality. This hospital truly belongs to the people of the region."
The ongoing pandemic and related restrictions meant it wasn't possible to host a public celebratory event earlier. Grande Prairie resident Melissa Isaac joined approximately 125 others on one of the guided tours during the Aug. 27 event. She says she wanted to see the facility for herself after watching the building take shape throughout its construction phase.
"I came to the event because I wanted a tour of the hospital, but I also enjoyed the barbecue," says Isaac. "I've lived in Grande Prairie for about 10 years, so driving by I could see as it was being built. I learned more today about the Cancer Centre and the Mental Health unit among other areas that I didn't know before. I'm glad to hear the old hospital is still being used as well. It was nice to see people at the event and showing an interest."
Care teams began treating patients at the new hospital on Dec. 4, 2021, with the first patient coming through the doors at 6:45 a.m. Over the course of about 11 hours, crews relocated 99 patients in a variety of EMS vehicles, including critical care units and a 40-foot multi-patient bus. Nearly 1,200 AHS staff members, 24 physicians and 95 volunteers helped to shift care from the former Queen Elizabeth II (QEII) Hospital site.
Diana Gitzel served as operational lead for the project from its very early stages and recently celebrated her official retirement from AHS. While there were challenges along the way, she says she feels lucky to have been involved in such a unique project and was happy to be able to celebrate this milestone with her colleagues and community.
"It takes a village to make this happen and I'm so enormously grateful for the project team that I had, but also all of the patient advisors and stakeholders who worked with us," says Gitzel.
"Honestly, it's the people who work and live here who participated in this project and made this building what it is. It's our design team who helped us get there, our construction teams who helped build this place and the communities in our region who supported us all along. We wouldn't be here if it weren't for them. I'm so genuinely thankful and proud of the support we had."
More than 1,400 burgers and hotdogs were served to event participants thanks to the Grande Prairie Regional Hospital Foundation, who helped to organize the event with help from various donors and sponsors who generously donated food, drinks, tents, talents and more. The event was also supported by the Grande Prairie Hospital Auxiliary, currently celebrating a milestone of their own — 100 years of supporting healthcare in the community.
The new hospital opening has also brought forth new opportunities at the former hospital site, now known as the QEII Ambulatory Care Centre.
"Moving to GPRH has opened up space at the QEII site to support growth in some community-based programs and further enhance access to services closer to home for Peace Region residents," adds Edey.
"We're looking at options on how we can make the best use of that existing infrastructure, including reviewing AHS leased space elsewhere in Grande Prairie."
Services at the QEII currently include dialysis, community-based respiratory and rehabilitation programs, and Mackenzie Place continuing care, along with other programs that support these services such as Environmental Services and Nutrition and Food Services.
---
See more information on the new Grande Prairie Regional Hospital.