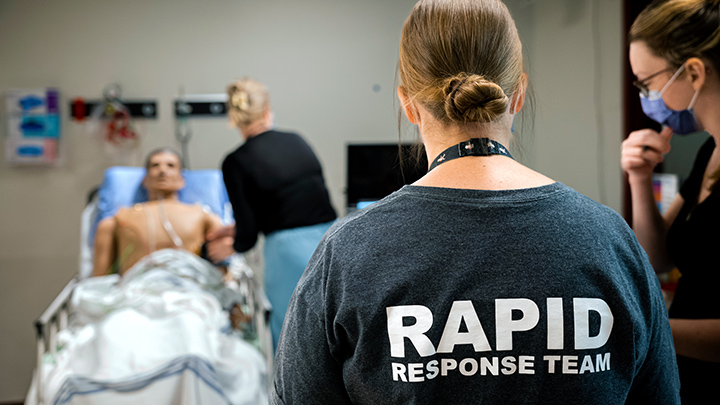 Through advanced technology in the lab and medical mannequins, Alberta Health Services provides a wide variety of simulation scenarios across the province to grow the knowledge and confidence of healthcare workers to provide the best care for their patients. Photo by Evan Isbister.
Staff develop life-saving skills through lab technology, medical mannequins
Story by Kathleen Deman | Photo by Evan Isbister
Whether in a technologically advanced lab or through the use of mannequins for a safe learning experience, Alberta Health Services (AHS) uses simulation to support staff and deliver superior care for Albertans.
When people think of simulation, often they often think of fast-paced, high-stress environments. While simulation is valuable in these scenarios, it's equally helpful in many areas beyond emergency procedures. This reality is reflected across the province by the many teams who support simulation-based education for AHS staff, including air and ground Emergency Medical Services (EMS).
The Fixed Wing Air Ambulance at AHS has a Patient Care Simulation (PCS) team that works to deliver hands-on training opportunities to frontline practitioners. Launched in 2018 after the donation of an aircraft fuselage from Portage College, the training takes place in a portable simulation lab designed by AHS EMS, with the fuselage inside to simulate an aircraft environment.
The trailer containing the lab travels around the province, which allows crews to practise cases and skills in real-time — elevating their knowledge and confidence in a realistic and safe environment — which translates into better care for patients who need medivac transport.
"I truly believe simulations are the best and, at the same time, the most underrated training aids available to healthcare," says Wayne Warren, Calgary Air Medical Crew.
"A simulation allows us to practise new treatments and revisit old ones without the stress of being in a real patient life-and-death situation. The opportunity to hone a skill is invaluable. A skilled caregiver can result in both better patient outcomes and shortened hospital stay times."
Across AHS, many simulations are driven by education teams which provide support to department leaders, who welcome the skills and simulation-based education given to their staff.
One of these, the AHS EMS Ground PCS program, use simulation to enhance learning opportunities strategic areas to:
Support staff returning to work after extended absences;
Introduce new staff members to EMS simulation and teach them how to access the EMS PCS program;
Support staff who transition to a new designation of practice;
Support staff who request simulation through an internal self-referral pathway;
Support innovation and collaboration using simulation in research; and
Participate in interprofessional education activities
To support returning staff after extended absences, the EMS Reintegration team EMS works collaboratively with the individual to tailor simulation exercises to address specific their specific needs on a case-by-case basis.
By giving staff the opportunity to practise challenging situations in an authentic and safe environment, EMS practitioners are able to transfer their simulated experiences to the real world to deliver excellent patient- and family-centred care.
"Working through a high-acuity, low-occurrence event in a simulation environment, using realistic patient presentations, has allowed me to recognize areas of strength and areas of growth in my patient care," says Heather Cook, assistant Clinical Operations supervisor, Calgary Metro EMS.
"The ability to debrief in a psychologically safe environment has been instrumental in building my confidence and knowledge, which results in better patient care and a healthier, happier paramedic."
As a leader in innovation, AHS also collaborates with a variety of disciplines to bring patients and their families into the equation.
The AHS eSIM (educate, simulate, innovate, and motivate) Provincial Simulation Program is the sole body for simulation standards across the province, providing governance, guidance, and setting standards for simulation-based education and activities.
Under the eSIM program umbrella is the Stollery Simulation Program. This team was presented with a unique opportunity to collaborate with child-life specialists — and use simulation for a couple of patients to experience their wish of "being a doctor for a day". A team of doctors, nurses, respiratory therapists and child-life specialists came together to brainstorm on how to apply four years of medical school education into an afternoon of realistic simulation.
"Pediatric patients routinely miss out on life's fun experiences due to illness or treatments," says Stephanie Wanner, a child-life specialist and main coordinator of the event. "The incredible collaboration across disciplines enabled these patients to experience a unique opportunity to learn and have fun while in hospital."
In the end, the patients were able to experience what it might be like to work as a resident physician, while also having the opportunity to learn and practise some of the medical treatments they themselves have received.
"The Simulation Lab was such a cool experience," says Annica Angeles, a patient who took part. "Being able to see what medical students are learning — and being able to do some things, like save a robot baby ourselves — was a super interesting experience."
---
AHS is proud to celebrate Healthcare Simulation Week (Sept. 12-16). Learn more. Visit the Society for Simulation in Healthcare page.