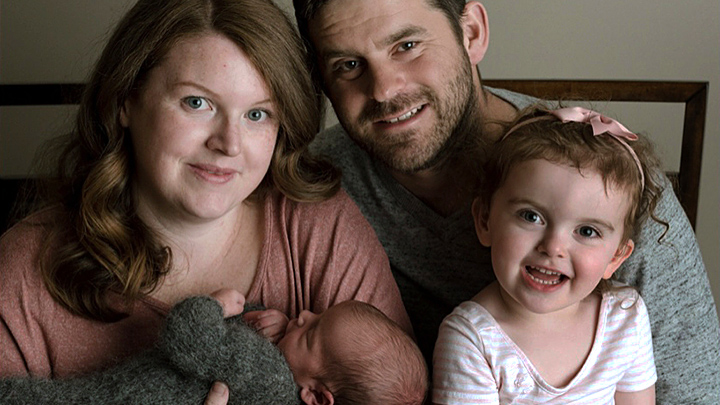 Bailey Carter and her husband Tyson pose with their daughter Lilah and baby Gavin. The Carters were not expecting Lilah to be diagnosed with permanent hearing loss so early in life. Since the diagnosis, they have worked with a speech language pathologist and audiologist to ensure Lilah has the support she needs. Now fitted with bilateral hearing aids, which she proudly called her "ears", Lilah has started kindergarten with her peers. Photo courtesy of the Carter family.
Early Hearing Detection and Intervention Program screens newborns for hearing loss
Story by Vanessa Gomez | Photo courtesy of the Carter family
GRANDE PRAIRIE — Lilah Carter was just a week old when she failed her newborn hearing screening and was later diagnosed with permanent hearing loss. It came as a surprise to her mother, Bailey Carter, who was hardly expecting the news.
"We have no hearing loss in our family," says Carter. "It was heartbreaking to hear, but at the same time, I was happy we were catching it early."
Alberta's Early Hearing Detection and Intervention (EHDI) Program screens newborns for permanent hearing loss as early as possible to ensure supports are in place for babies and their families. Hearing screening is quick, safe and will not hurt your baby.
"Newborn hearing screening is the best way to find out if your baby has permanent hearing loss," says Tanis Howarth, director of Provincial Audiology. "Your baby's hearing is important for their healthy development. Finding hearing loss early helps prevent delays in speech, language and learning development."
The family, who lives in Wembley, 20 minutes from Grande Prairie, immediately started working with a supportive team of audiologists and speech language pathologists, who have helped Lilah and her family along their journey.
"We want to give babies the best start to life possible," says Dr. Huiming Yang, medical director of AHS Screening Programs. "Providers work together and with the family to ensure children with hearing loss have the care and support needed to help them reach their full potential."
Carter admires the close relationships her family has formed with Lilah's team and the comfort they provided.
"We were always informed of what was going on at every step of the way," says Carter. "They might not have kids who have hearing loss, but they understand the situation and they are always there to make you feel comfortable."
Carter remembers Lilah's reaction when she was first fitted with her bilateral hearing aids — which she now proudly calls her "ears".
"They warned us it wouldn't be like the videos on the internet, but it was cool. You could tell everything sounded a little different and you could see it on her face."
While Lilah's hearing has deteriorated a little, the four-year-old is excelling at school with her peers and loves being in kindergarten.
Carter hopes to increase awareness around the EHDI Program and wants other parents to know they're not alone.
"Don't be scared there's something different with your child. There are supports in place to help. You're not alone."
---
September is Newborn Screening Awareness Month. Visit ahs.ca/ehdi to learn more about Alberta's Early Hearing Detection & Intervention Program.