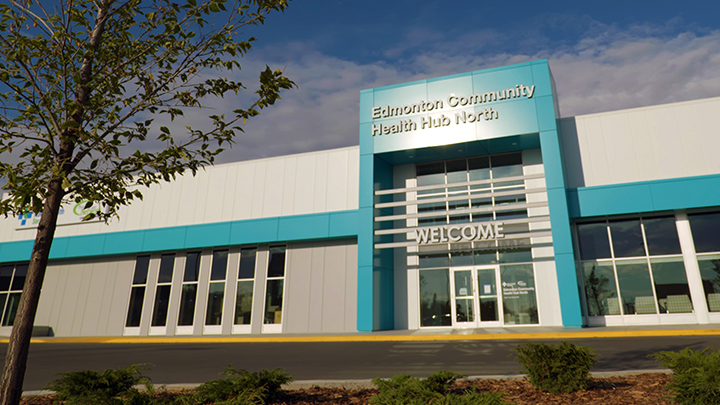 The Edmonton Community Health Hub North opened in September and it brings together under one roof several programs of the Edmonton North Primary Care Network and Alberta Health Services. Teams are looking forward to providing collaborative, inter-disciplinary care to their patients. Photo by Evan Isbister.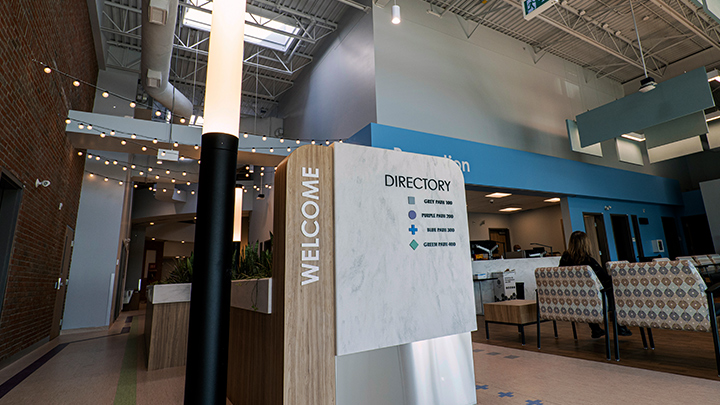 The newly opened Edmonton Community Health Hub North offers a welcoming, bright space for both patients and staff. AHS and PCN staff hope to make it feel like home for all who visit. Photo by Evan Isbister.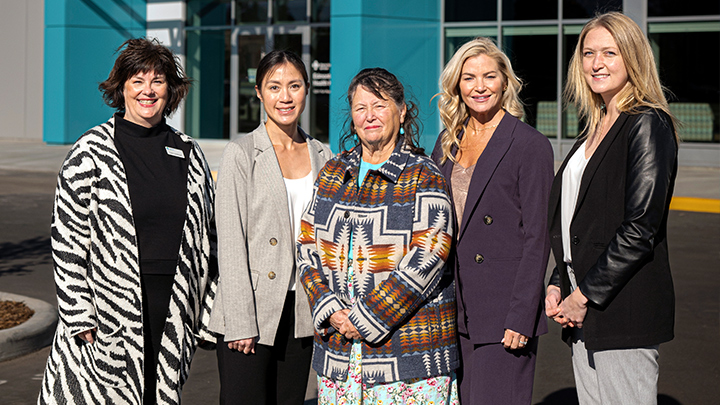 On hand to celebrate the grand opening of the Edmonton Community Health Hub North were, from left: Carol Anderson, chief zone officer, Edmonton Zone, AHS; Dr. Diana Hong, president, Edmonton North PCN Board; Dr. Carola Cunningham, knowledge keeper; Christie Sharun, executive director, Edmonton North PCN; and Meghan Hickey, manager, Special Projects, Edmonton North PCN. They're all part of a unique partnership brings AHS and PCN programs and services under one roof to better care for Albertans. Photo by Evan Isbister.
AHS & Edmonton North PCN pool programs, collaborate at new site
Story by Kirsten Goruk | Photos by Evan Isbister
EDMONTON — A collaboration years in the making came to fruition this September when the new Edmonton Community Health Hub North officially opened its doors to staff and patients.
The Health Hub, as it's been dubbed by staff, is home to programming and services for both Alberta Health Services (AHS) Edmonton Zone and the Edmonton North Primary Care Network (PCN).
"This is an exciting day for all of us and a great example of what collaboration with healthcare partners can achieve," says Carol Anderson, AHS chief zone officer for Edmonton Zone. "The Health Hub puts primary care, addiction and mental health services, home care and specialty services all under one roof where our staff are able to work together and support each patient's needs."
Almost 500 staff now have access to the site, which offers all of the PCN's programming and services. As well, AHS moved over several addiction and mental health programs, including Access 24/7. Many Edmonton Zone home care staff have office space here. The Health Hub will also offer an influenza immunization clinic this fall and winter.
The 7,400-sq.-m. building, with teal accents on its exterior, makes great use of natural light in its interior design, with more of its unique features yet to be completed. In the months to come, a ceremonial space will be finished and formally named. There are also plans for a community art wall installation on the outside.
In the planning and design of the building, both AHS and the PCN wanted the space be functional for not just patients and clients, but also for staff. Its modern office areas were created to encourage collaboration and flexibility.
"We know that when you create opportunities for like-minded people to work together, they're able to make a difference for patients," says Christie Sharun, PCN executive director. "For us, the Health Hub represents community, and the chance to improve access to healthcare services, and therefore improve care for Albertans."
Part of that community feeling comes from the continued support of healthcare foundations. In the case of Access 24/7, AHS is grateful for the ongoing support provided by the Mental Health Foundation and the Royal Alexandra Hospital Foundation and their many generous donors for this collaboration, which involves a multi-disciplinary team which works to meet the needs of patients where they are.
"When we look to the future of healthcare in this zone, we know the Hub represents a bright part of that future," adds Anderson.
---
For more information about the Health Hub, visit: ahs.ca/echhn or call 587-473-0789.