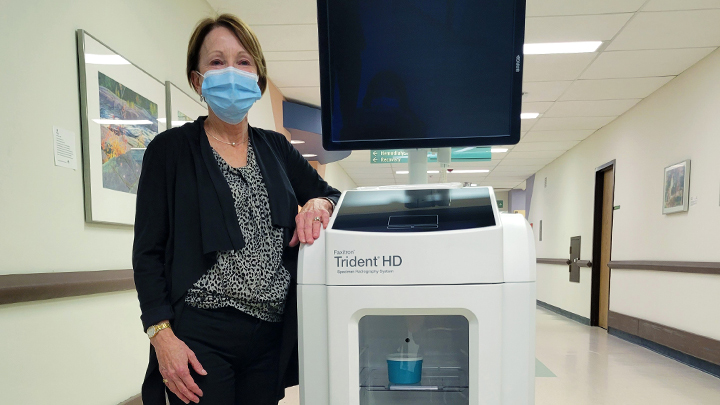 Deryl Comeau poses next to the Hologic Faxitron, new medical X-ray equipment purchased through her donation to the Red Deer Regional Health Foundation. Photo by Tracy Kennedy.
Gift of specialized X-ray unit aids surgery, gives peace of mind for Red Deer patients
Story & photo by Tracy Kennedy
RED DEER — A breast-cancer survivor has funded advanced medical equipment to create a better patient experience and provide more peace of mind for others on their own cancer journey at Red Deer Regional Hospital Centre (RDHRC).
Deryl Comeau, a longtime city resident now living in Sylvan Lake, donated funds to the Red Deer Regional Health Foundation to buy a new $135,000 Hologic Faxitron — an X-ray machine used during surgery that confirms whether cancerous breast tissue has been successfully removed.
"I'm a retired RN, and I'm passionate about health and well-being," says Comeau. "As soon as I learned of the benefits to patients, surgeons and the healthcare system as a whole, I knew the Faxitron would be great technology for Red Deer Regional. It was such a great opportunity for me to give back."
Used right in the operating room (OR), the Faxitron allows the surgical team to view high-resolution tissue samples immediately. Prior to the arrival of the equipment in September, the sample had to be taken to the Diagnostic Imaging department in a process that could take up to an hour.
Leane Young, director of Diagnostic Imaging for Central Zone, says the new process can help avoid a second surgery for patients — a welcome advancement.
"This is much faster for the surgeon to confirm right away if the area of concern has been removed. For patients worried about breast cancer, this can be a huge relief," says Young. "It's a great assurance for patients and families, and we are so grateful to our donor, Deryl."
Comeau has been an AHS volunteer for the past six years as a member of the David Thompson Health Advisory Council. She has also been a patient and family advisor with a number of committees assisting with Connect Care, Red Deer Regional Hospital Redevelopment and the Central Alberta Cancer Centre Patient Experience.
She recently took the opportunity to see the equipment in action and says she's impressed with the healthcare teams who've taken part in bringing the technology into the OR.
"I want to thank everyone who enthusiastically did the groundwork to see the project through to fruition. And to know that it's already in use and enhancing patient care — I can't ask for more. I'm over the moon," adds Comeau.
In addition to her professional history, Comeau is thankful for the use of the new equipment because of her personal connection. She says the Faxitron is "close to my heart" on many levels.
"I had my breast cancer treatment here at the Central Alberta Cancer Centre and Red Deer Regional Hospital Centre. I had such excellent care from their healthcare teams - and I'm so grateful."