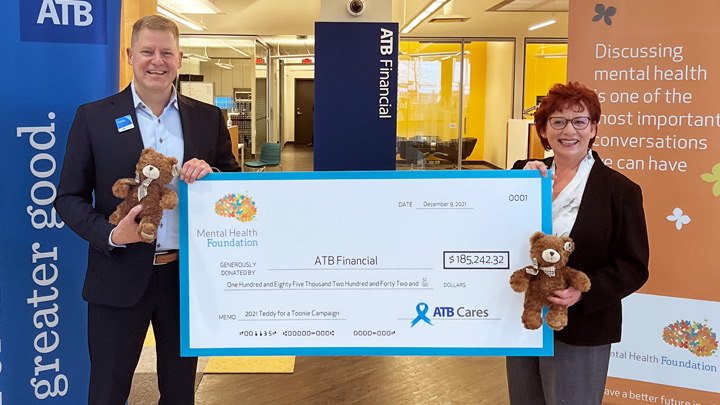 Curtis Stange, president & CEO of ATB Financial, and Deborah McKinnon, president & CEO of the Mental Health Foundation, strike a philanthropic pose with a huge cheque. This year, ATB Financial is being recognized with a National Philanthropy Day award from the Edmonton & Area Chapter of the Association of Fundraising Professionals. The Mental Health Foundation nominated ATB to thank them for their fundraising efforts toward youth mental health. Photo supplied.
Foundation partners recognize exceptional generosity of Alberta donors
Story by Amelia Schofield
Many charitable organizations are celebrating National Philanthropy Day this Tuesday (Nov. 15), an awareness day that honours philanthropic individuals and organizations across North America.
Led by the Association of Fundraising Professionals (AFP), award programs are taking place to recognize philanthropists in several communities including Edmonton and Calgary. Several of Alberta Health Services (AHS)' own philanthropic partners are taking part by nominating individuals and organizations for these awards.
"Alberta Health Services is fortunate to work alongside 69 foundations and 48 auxiliaries to advance healthcare in our province," says Mauro Chies, Interim AHS president & CEO. "We're grateful to them and their many generous donors for their support of equipment, programs, services and research which help us provide the best possible care to Albertans."
This year, AHS' foundation partners are recognizing the following nominees through AFP's National Philanthropy Day:
ATB Financial - Recognizing the need for mental health support for Alberta's youth, ATB Financial actively worked to support the Mental Health Foundation in launching Kickstand Connect, a virtual space for youth to meet with mental health professionals, join support groups and attend workshops. From selling teddy bears during their Teddy for a Toonie campaign in branches across the province to encouraging staff donations by matching gifts to the foundation, they have shown tremendous generosity toward the cause of youth mental health.
Marisa Baretta-Nay - Since starting her career at the Glenrose Rehabilitation Hospital 40 years ago, Marisa has been a committed donor of the Glenrose Rehabilitation Hospital Foundation. Marisa understands the critical role of the Glenrose, and this appreciation only grew stronger after witnessing the exceptional care her own mother received as a Glenrose patient. To further show her support to the hospital, Marisa became a foundation donor through employee payroll deduction, which allows her to regularly contribute to the foundation through the pay she receives.
Ted and Iona Degner - As community leaders and committed donors to the Glenrose Rehabilitation Hospital Foundation, Ted and Iona Degner have played a significant role in bringing Pediatric Brain-Computer Interface (BCI) Program to the Glenrose Rehabilitation Hospital. With their support, children with complex physical needs can use BCI to increase their independence and improve their quality of life. Patients wear a non-invasive headset which analyzes and interprets brain signals to directly control applications such as toys, robots or video games without the need for reliable or functional physical movements.
Durabuilt Windows & Doors - Durabuilt Windows & Doors is passionate about bringing innovation in healthcare to life. Since 2017, they have demonstrated their commitment to healthcare innovation by loyally supporting the Mazankowski Alberta Heart Institute. They have also made many significant contributions to the University Hospital Foundation in support of Heart Pledge Day, the Guru Nanak Maz Healing Garden and other causes.
Eco Medical Equipment - As a proud supporter of the Glenrose Rehabilitation Hospital Foundation for the past 13 years, Eco Medical Equipment is a generous sponsor of the foundation's fundraising events and has made many significant contributions to projects throughout the hospital. Their commitment has truly made a difference for patients and healthcare teams at the Glenrose.
Edmonton Valve & Fitting - As a valued and long-time supporter of the Stollery Children's Hospital Foundation, Edmonton Valve & Fitting has contributed toward several of the foundation's events including the Corus Radiothon, Snowflake Gala and Teddy Bear Fun Fest. They also host an annual golf tournament benefitting the hospital.
Fort Mac Hockey Bros Foundation - In 2018, avid hockey players and Métis brothers, Parker and Cruz Flett, noticed that kids in outlying areas of Fort McMurray didn't have access to equipment to enjoy the game they love. To help, they began by asking friends and families to donate hockey equipment. The boys then reached out to the Northern Lights Health Foundation and donated a tree to the Festival of Trees to showcase their initiative. The tree was a massive hit, generating many donations toward new hockey equipment and raising $100,000 for the Health Foundation. Since then, they have continued to gather and distribute hundreds of skates, helmets, hockey pads and gloves to regional communities and have been committed representatives of the Health Foundation.
Gabby's Big Heart - In 2015, Kristin and Steve Basaraba began Gabby's Big Heart Annual Golf Tournament in honour of their daughter, Gabriella, who has received cardiac care at Stollery Children's Hospital. Since then, the tournament has raised thousands of dollars for the Stollery Children's Hospital Foundation. The family has also shared their personal experience to inspire others to give, and Gabriella has started her own fundraising efforts with cookie and lemonade stands.
Highland Moving & Storage Ltd. - As a dedicated partner of the Stollery Children's Hospital Foundation, Highland Moving & Storage Ltd. generously donates their time and services to support foundation events and initiatives. Most notably, they have transported thousands of items for the foundation's Giving Comfort program since 2018. With support from partners like Highland Moving & Storage, the program provides patients and their families with blankets, T-shirts, toiletry kits, books and other items to give a sense of home during their hospital stay.
Cory Janssen and Angus Watt - In 2022, Alberta Cancer Foundation launched the We Cross Cancer campaign to double the capacity for clinical trials at the Cross Cancer Institute. Campaign Co-chairs Cory Janssen and Angus Watt are leading fundraising efforts, alongside the foundation, and are committed to exceeding the $30-million campaign goal. By holding more clinical trials at the Cross Cancer Institute, more Albertans living with cancer will have access to cutting-edge treatments and world-leading research.
The Kvisle and Aldous family - In 2016 Daina Kvisle lost her mom Dianne to glioblastoma brain cancer. Two years later Daina received the same diagnosis. The Kvisle/Aldous family and the Alberta Cancer Foundation came together to change the landscape of brain cancer in Alberta through the creation of the Kvisle Fund for GBM. This fund brings awareness and raises funds to assist in advancing treatment and research to help find a cure for GBM, while supporting families facing this disease.
Longview 4-H Beef Club/Charity Steer Project - For the past 15 years, the Longview 4-H Club has incorporated a charity steer into its sustainable beef production programming for youth. The steer is donated to the Club and entrusted to one of the Club members who raises the steer and prepares it for market. Businesses and community members donate collectively toward the purchase of the steer, plus the steer is auctioned with 100 per cent of proceeds added to their annual gifts to the High River District Health Care Foundation. This year, the Club is generously donating proceeds from the Charity Steer Project to a new child and youth therapy room at the High River General Hospital and infant CPR mannequins for training.
The Lovsin family - The entire Lovsin family have taken it upon themselves to help families touched by cancer, just like theirs. The Lovsin family has shown their commitment a multitude of ways, including a recent donation to the Alberta Cancer Foundation's We Cross Cancer campaign. This gift, made by Frank Lovsin, in memory of his wife Agnes, will help the Cross Cancer Institute double their capacity for clinical trials and increase the number of patients they can treat today and into the future.
Millwoods Christian School - Since 2010, the Millwoods Christian School Grade 5 classes have hosted a community service fundraiser to provide in-kind and monetary donations to the Stollery Children's Hospital. Their efforts help purchase crafts, toys and gift cards for the hospital's Child Life department. Additionally, the entire school takes part in fundraising for the Stollery Children's Hospital Foundation's Corus Radiothon and Teddy Bear Fun Fest.
Stan and Marge Owerko - Stan and Marge Owerko have made it their life's goal to create meaningful change for others. As philanthropic leaders, the Owerko family has made significant gifts to advance pediatric brain and mental health through the Alberta Children's Hospital Foundation. Their generosity established the Owerko Centre at the Alberta Children's Hospital Research Institute, creating a home for a multidisciplinary team of researchers dedicated to the study of neurodevelopmental disorders and the improvement of child mental health. Most recently, their support for the Build Them Up campaign for the Centre for Child & Adolescent Mental Health, as well as Emerging Adult Mental Health initiatives, has deepened their commitment to helping others on their journey to mental wellbeing.
Qualico Developments West Ltd. - As a supporter of the University Hospital Foundation for nearly 20 years, Qualico Developments West Ltd. most recently made a substantial contribution to the West Edmonton Kidney Care Centre, which is making it easier for people living on dialysis to transition to home therapies. Their commitment to improving the lives of Albertans with end-stage kidney disease demonstrates the incredible impact Qualico has had in the communities they work in.
Brad and Leanne Smoliak - For more than a decade, Brad and Leanne have been avid fundraisers and supporters of the University Hospital Foundation. While at the Mazankowski Alberta Heart Institute, Brad received a ventricular assist device (VAD) and since then, he has made it his goal to give back to the healthcare professionals that are saving his life. Since 2011, he and Leanne have raised significant funds for the foundation while bringing awareness to the medical programs and technology offered at the Mazankowski. In addition, they volunteer to mentor new VAD patients and raise money for many other Edmonton charities.
SMS Equipment - Since 2008, SMS Equipment has been a dedicated supporter of the Stollery Children's Hospital Foundation through their employee payroll deduction program, matching employee donations and other grassroots fundraising efforts. In addition, they encourage further support of the foundation through their annual staff BBQs, ice cream sundae bars and other employee engagement activities.
SuperMun & Friends Charity Golf Tournament - Over the past four years, the SuperMun & Friends Charity Golf Tournament in support of the University Hospital Foundation has raised thousands of dollars for cardiac care in Alberta. After Mandeep (Mun) Grewal passed away from heart disease, his friends and family came together to host the tournament, which raises funds for the Mazankowski Alberta Heart Institute. By embracing the cause, the SuperMun & Friends Charity Golf Tournament is creating a legacy for their beloved friend and family member.
Kyle Taback - As a longtime supporter of the Northern Lights Health Foundation, Kyle is deeply committed to enhancing healthcare in the Regional Municipality of Wood Buffalo. He served on the Foundation's Board in various roles for more than a decade and has recently accepted a nomination to the Honorary Board of Directors where he will continue to advocate for the Foundation. Additionally, he has made many generous contributions as a sponsor of the Foundation's events and donor to projects such as the Jeremy Snook Memorial Palliative Care Suites and the Minimally Invasive Surgical Suites at the Northern Lights Regional Health Centre.
The Trendel family - Inspired to improve mental health for youth, the Trendel family recently contributed toward the expansion of the mental health program in the Stollery Children's Hospital emergency department. Their generosity has helped vulnerable youth receive the specialized care they need in moments of crisis and increase the supports families receive after they leave the hospital.
Chris Wilson - Healthcare at the local and regional level is of the upmost importance to Chris. As a band member of the Fort McKay First Nation, Chris is a powerful force for ensuring the vitality and success of his community by investing significantly into local healthcare. For more than five years, Chris and his company, Birch Mountain Enterprises LP have contributed to the Northern Lights Health Foundation through sponsorship and donations. Most recently, he supported the Health Foundation and the Local HERO Foundation launch a joint provincewide raffle, which invested funds into local health and emergency response projects. He has also been recognized as an Honorary Board Member with the Health Foundation.
---
For more information on AHS' philanthropic partners and how you can show your support, please visit ahs.ca/give. - Written with content contributed by foundations