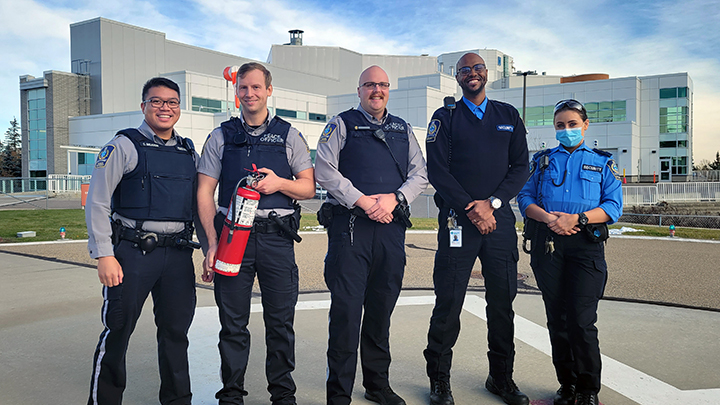 Members of the Protective Services C-Team at Rockyview General Hospital — Cedric Balazon, left, Christopher Dirk, Blaine Austin, Abass Ahmed and Mia Manina — worked quickly to prevent a grassfire from spreading to their community. (Absent from photo is Marcy Declerck, who also took part.) Photo supplied.
Officers jump into action to safeguard hospital grounds & community
Story by Cassie Ford
CALGARY — A large grassfire was extinguished before it could cause significant damage thanks to the efforts of a Protective Services (PS) team at Rockyview General Hospital (RGH) on Oct. 19.
PS team lead Blaine Austin responded to a report of a grassfire on hospital grounds. When he arrived on scene – fire extinguisher in hand – a 10 metre by 20 metre fire was blazing in the grass near the hospital helipad.
"It had been very dry, and the fire was spreading quickly," says Austin. "I was nervous that we might not have enough resources on hand."
The helipad is located at the southwest corner of the hospital grounds, near the neighbouring community of Eagle Ridge, and Austin feared the fire had the potential to move into the community or toward the hospital.
He radioed for all hands on deck and began putting out the fire. Together, the team was able to stop the initial spread of the grassfire and smother any active flames. The Calgary Fire Department arrived shortly thereafter and doused the ground in water and fire retardant to ensure it was fully out.
"I wasn't sure what we were getting ourselves into," says Cedric Balazon, a peace officer at RGH. "I was shocked at how quickly the fire spread."
"It was pretty substantial – you could feel the heat from quite far away," adds security guard Mia Manina.
While no one was injured during the incident, the responding officers were treated for smoke inhalation.
"In situations like this, each officer makes an individual assessment to determine the level of risk involved and if it's safe to jump in," says Austin. "Everyone decided it was worth it for the sake of preventing significant risk to the hospital and the community."
As part of AHS' Required Organizational Learning (ROL), all staff members are required to complete annual Code Red training. Code Red is the designated phrase to alert personnel to smoke or fire. The training outlines actions to be taken during a Code Red — and how to safely use a fire extinguisher.
Through monthly fire drills, Protective Services officers also educate frontline staff on extinguisher use. They conduct regular silent and live fire drills and walk staff members through the appropriate steps to take in the event of a fire.
Director of Fire and Life Safety Gerald Graham adds that, although peace officers do not receive specialized firefighting training, they are often the first to use a fire extinguisher.
"These officers demonstrated excellent professionalism and teamwork," says Graham. "Their actions limited the real potential for this grassfire to get out of hand and directly impact the hospital and the surrounding area."
The extended fall season had made for extremely dry conditions, and Graham adds that there were four fires at AHS sites across the province in recent weeks. Protective Services responded to each incident to control the fires.
"With any fire, we encourage extinguishers be used if it's safe to do so," he says. "If at any time a fire gets out of hand, we try to contain it and wait for the fire department to arrive."