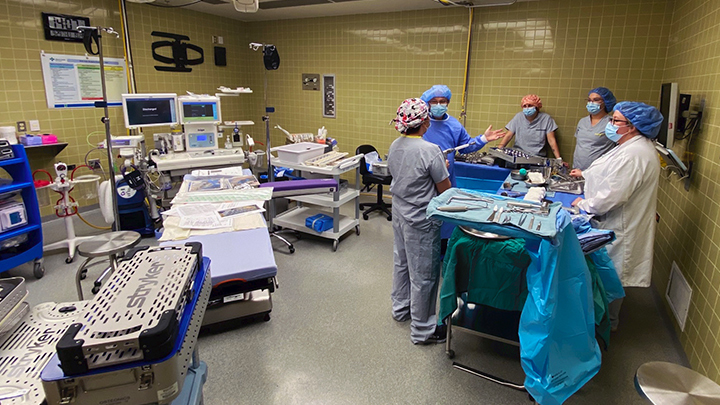 The surgical team in Hinton prepare for their first arthroplasty patient in October. The site has recently added hip surgeries with an eye to expanding further to include knee surgeries in 2023. Photo supplied.
Hinton Healthcare Centre team steps up to take on hip surgeries
Story by Diana Rinne
HINTON — When Denise Cook was offered the option of having her hip replacement surgery done in Hinton instead of her home city of Grande Prairie, she didn't think twice about it.
"I said, absolutely!" she says.
As the first patient of a new hip surgery program now open at the Hinton Healthcare Centre as part of the Alberta Surgical Initiative (ASI), Cook has only good things to say about her experience.
"I was really impressed with how all the departments here (Grande Prairie) and in Hinton worked together," Cook adds. "Everyone from physio to the bone clinic here, the surgeon's office, the hospital there telling me what to expect. They had everything arranged for me to get the equipment from Red Cross that I needed at home. It all happened very quickly, and I was thoroughly impressed by how all the departments worked together."
"We are really excited about this new program," says Crystal Browne, director of clinical operations for Hinton and area. "Our team in Hinton has done a great job in launching this program, it's just a great success story all around."
The program will see a visiting orthopedic surgeon at the site for two days twice a month doing hip surgeries and, eventually, knee surgeries.
"We will work our way up to 16 cases a month," says Alana Larson, assistant head nurse for the OR at Hinton Healthcare Centre.
"I've been very grateful for the ASI program because it opened the doors for this kind of surgery to be done in Hinton," says Larson. "We are a very strong surgical site, and that echoes out into other areas of care in the hospital."
Before the program could start, the OR team in Hinton needed to learn the surgeries and ensure they had the necessary equipment.
"I went to Grande Prairie and watched a surgery and thought, 'Oh my goodness, we can do this at Hinton, and we can do it successfully','" says Larson who took specialized training with the team to prepare for the launch of the program in early October.
Once the equipment was in place and validated by the Medical Device Reprocessing Department (MDRD) to ensure it was sterile and met all necessary standards, "the train started rolling," says Larson.
Hinton partnered with Grande Prairie Regional Hospital to confirm the first four patients on the waitlist who were willing to travel to another hospital for their surgeries.
Though the Hinton OR team felt a bit nervous prior to Cook's surgery, Larson says by the end of it, the tone in the operating room completely changed.
"It was amazing," she says. "And by the end of the second case, it was OK, we've got this!"
Cook's surgery was done on a Monday morning, and by Tuesday at noon, she was discharged and on her way home to Grande Prairie where she is now recovering well.
"It was a remarkable experience," she says. "I really want to give a huge shoutout to the staff at the Hinton hospital. They were all amazing! I'm a cancer survivor so I've had experience in the hospital and that care was great, but this was unbelievably amazing."
In 2019, AHS began work on the Alberta Surgical Initiative (ASI), a plan focused on reducing surgical wait times for Albertans. Through the strategies under the ASI, AHS continues to increase surgical activity in the province to get Albertans the surgical care they need within clinically recommended wait times.