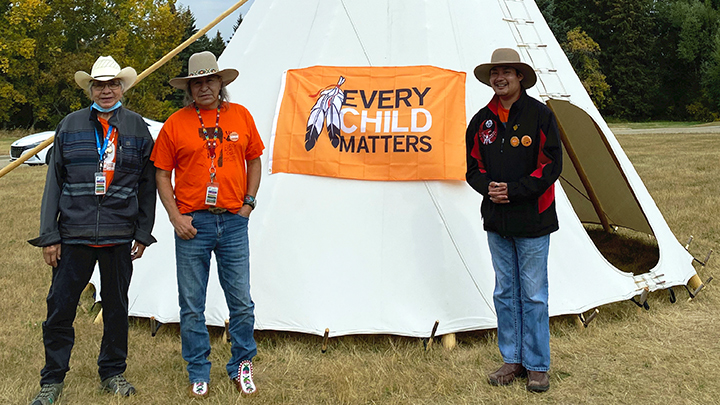 Elder Richard Lightning, left, Doug Longmore and Floyd Baptiste marked the National Day for Truth and Reconciliation at Centennial Centre for Mental Health and Brain Injury in Ponoka. Photo by Yolanda Genu.
Centennial Centre ceremony marks National Day of Truth and Reconciliation
Story & photo by Yolanda Genu
PONOKA — Staff and patients at the Centennial Centre for Mental Health and Brain Injury gathered on the lawn to mark their first National Day for Truth and Reconciliation ceremony to honour the survivors of residential schools, their families and their communities.
Floyd Baptiste, an Alberta Health Services (AHS) volunteer, opened the Sept. 29 ceremony with drumming and called upon Mother Earth and the four directions to lead the way and provide her blessings.
Inside a teepee, a pipe ceremony took place and Richard Lightning, a Maskwacis Elder, said a prayer in Cree, followed by bannock and tea, symbols of a community coming together and sharing.
"I've been doing these sacred ceremonies in my reserve for a very long time, and I'm glad the ceremony turned out well," says Doug Longmore, Indigenous Health coordinator at Centennial Centre.
Longmore was quick to acknowledge the help he's had from directors, program managers, managers, recreational therapists, volunteers and others to make this day happen. "I had the idea, but they helped develop it. I made a suggestion and everybody, the whole team, put it together."
"Doug started at the end of May this year, and in a short period, he's done a lot of work," adds Alana Cissell, director, Seniors Mental Health and site lead for the centre.
On a regular day, Longmore helps patients find support in their home communities, as he bridges the gap between Indigenous communities and the centre through weekly smudge ceremonies and traditional rituals. He counsels patients, and assists with paperwork, for example, if they with to apply for status cards or Assured Income for the Severely Handicapped (AISH). As well, he sits with patients during their review board hearings, and helps them to find a place to stay, when needed.
"It's always been pretty positive," says Longmore. "A lot of patients are every happy to see someone, who looks like them, assisting them." Baptiste says it's important to acknowledge the day because his grandparents and mom were in residential schools.
"I'm a survivor of the child welfare system, so on the National Day for Truth and Reconciliation, it's important to remember those who have passed and the survivors today," says Baptiste.
Hearing Elders tell their stories at the ceremony brought Baptiste a measure of peace. "It all came into perspective of what had happened in those schools and the traumas. Now we can come together as a community to (better) understand the differences between non-Indigenous and Indigenous Peoples."
"Residential schools changed us a lot," adds Longmore, reflecting on the psychological harm that many Indigenous Peoples live with to this day.
"Recognizing the National Day for Truth and Reconciliation at our site was important for everyone to realize that we do have a culture. It was always here, and we're starting to come out and share it with other people. And also to share the history of how we got a certain way — and how we're bringing our identity and ourselves back."