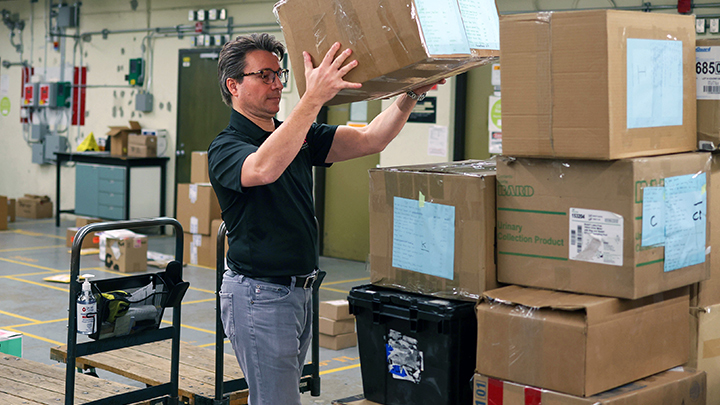 Dr. Paul Fedak, a cardiac surgeon at the Foothills Medical Centre, loads boxes of essential medical supplies on a pallet destined for the Heart Institute in Kyiv, Ukraine. Photo by Leah Hennel.
Heart surgeon rallies team to ship medical supplies to war-torn country
Story by Blain Fairbairn | Photo by Leah Hennel
CALGARY — Cardiac surgeon Dr. Paul Fedak knows the challenges healthcare workers in Canada have faced for the past couple of years. But after learning about the conditions patients and physicians from the Heart Institute in Kyiv, Ukraine endure, he was humbled and compelled to take action.
"Months ago, I saw a video that was posted from Ukraine," he says. "A cardiac surgeon was taking open-heart surgery patients down into a bunker as the bombs were going off overhead. I can't even imagine what it would be like to take care of patients during a war. I was really moved."
As the director of the Libin Cardiovascular Institute at Foothills Medical Centre (FMC), a joint AHS and University of Calgary initiative, Dr. Fedak found himself in a unique position to tap his contacts and see how he could help. He reached out to the author of the social media post, Dr. Igor Mokryk, chief at the department of adult cardiac surgery at the Heart Institute, and received a list of basic yet essential medical supplies that were desperately needed by the Ukrainian institute.
"Being in a leadership role, I know who to contact at the Foothills Medical Centre, how to mobilize nursing managers to go through units, scour hallways and cupboards and ask, 'is there anything not being used that could be given up without impacting patient care?'" says Dr. Fedak.
"Often times, the systems change here and we get newer equipment and then some of the supplies, the disposables, that support the older equipment are just not usable for us."
With the support and assistance Amanda Weiss, FMC's cardiac sciences executive director, Fedak and a team of volunteers filled more than 30 boxes with surplus or unusable supplies such as personal protective equipment (PPE), dressings, catheters, syringes and defibrillator electrodes. All materials are safe for use and there's no impact to patient care in Alberta.
The shipment will make its way to Chicago where a humanitarian organization with established supply lines in Ukraine will forward it on to Kyiv via Poland. While he's grateful for the opportunity to help, he hopes his effort motivates others to think about how they too can support.
"People there are very creative. They found all kinds of ways to get things done and that's part of what inspires me," adds the Ukrainian-Canadian surgeon.
"It's a really nice win, where these things would probably be discarded and thrown in the garbage, now they're going to probably save lives. It's kind of amazing."