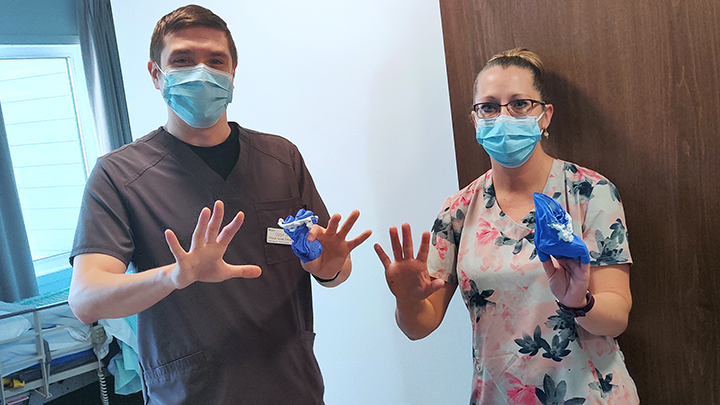 Health care aide trainee Shannon Papirny, right, receives hands-on instruction from clinical nurse educator Cody Houle at Pine Valley Lodge in Hinton. Photo by Ifeoma Owunne.
Health care aide initiative brings opportunities to rural & remote communities
Story by Nathan Downey | Photo by Ifeoma Owunne
Born and raised in Hinton, Shannon Papirny loves her community's abundant outdoor activities and mountain scenery. In September 2022, she enrolled in a new Alberta Health Services (AHS) training program that lets her earn money and her health care aide (HCA) certification right in her hometown.
"I feel so much gratitude every day that I go to work. I feel like I make a difference in patients' lives every day. It's the best job. It's very fulfilling," says Papirny.
HCAs are a vital part of frontline healthcare. They spend much of their time working directly with patients, helping them with daily activities to foster their health and well-being.
The new 12-month HCA training program brings opportunities to residents of rural and remote communities to earn money while working towards their certification. AHS covers the cost of tuition if participants commit to work in the position for 24 months.
"At AHS, we're trying to grow our own people and our focus is to target areas that have high staffing needs," says Ifeoma Owunne, a senior practice consultant with the AHS Central Nursing Team.
Owunne says that HCA students have a full cheerleading squad of professional nurses to provide support throughout the program. Support measures include guiding applicants on how to apply, assisting with competency assessments and conducting virtual and on-site orientations, as well as providing one-on-on tutoring and drop-in classes on the last Friday of every month.
Papirny says she's grateful for the support of the clinical nurse educators in her HCA training program, including in-person training at Pine Valley Lodge.
"It's so nice to have someone come out here to give me some hands-on experience. Hinton is so remote. To have that person come right on the floor, who is educated and who has that healthcare background — it's very helpful." she adds.
Inez Brown manages the home care sites for Ponoka and Bashaw. She says the new HCA program is proving hugely beneficial, because it's difficult to recruit HCAs in her region. She applauds the new program for providing more opportunities in rural and remote areas of Alberta.
Brown says: "Giving people the opportunity to be a part of AHS, contribute back to their community and gain a meaningful skill in an industry that's growing and expanding — that's rewarding from all perspectives."
---
The HCA training program is available to existing uncertified HCA staff, as well as those who may be interested in starting a career in healthcare. Visit Health Care Aide for more information about HCAs and the training program.