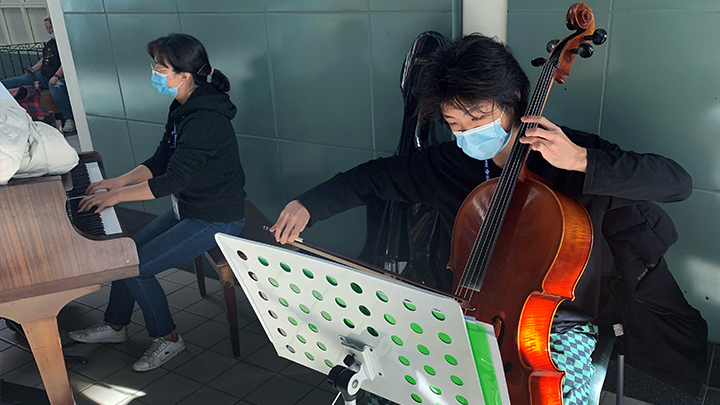 Sebin Cho plays the cello while his mom and classical music teacher Youngim Song performs on the piano. They're accompanied by his violinist sister Soobin Cho (not shown). Photo by Sherri Gallant.
Korean son, daughter & music-teacher mom gaining new fans
Story & photo by Sherri Gallant
"My heart, which is so full to overflowing, has often been solaced and refreshed by music when sick and weary."
– Martin Luther
---
LETHBRIDGE — That music has restorative powers is evident when the family trio of Sebin and Soobin Cho and their mother, Youngim Song, fill the atrium at Chinook Regional Hospital (CRH) with the sounds of cello, violin and piano.
People stop walking to take it in. Others, heading down one hospital corridor or another, turn around and return to the atrium, some standing close to the musicians, while others take a seat and settle in.
The flawless strains floating through the airy space from Sebin's cello, Soobin's violin and Youngim's keyboard are enchanting. Through Volunteer Resources, they're among a growing cohort of musicians taking part in the Music in the Atrium program, overseen by volunteer co-ordinator Filomena Laporte-Packer. They play every Friday during the lunch hour and are starting to attract a bit of a following.
"I was sitting on a bench listening to them play one Friday and a woman came by who stopped to listen as well," LaPorte-Packer recounts. "She told me she was just going for surgery, and that hearing their music relaxed her. She said it was just what she needed."
Along with their dad, Ikjin Cho, the teenagers and their mother emigrated to Canada from South Korea at the end of 2021, signing up to volunteer at CRH this past September.
"People ask why did we decide to volunteer here," says Sebin, 15. "I love playing music a lot, and it has a real soothing and calming effect on me. I thought that could be the same way for the people here at the hospital, that they would hear the music and be soothed and calmed.
Soobin, 17, and her brother both began their music lessons at age 11, learning from their mother, who's a classical music teacher.
"We all play at the (Lethbridge Community Korean) church, we play with the choir, and my sister and I are also in the band at school," adds Sebin, whose English is the most proficient in the family.
Youngim, 48, says that in Korea, "I taught students and I accompanied a choir. Here I'm just teaching Korean students in my church so far, because I can't speak English very well."
Feedback at the hospital has been plentiful and positive, says LaPorte-Packer.
"This past week there was a lot of feedback from the staff, saying it's so nice to see musicians back in the hospital again after the pandemic; saying that it's been so uplifting.
"They're telling the site manager how much they love it. They're sitting having lunch and listening. People are starting to pay attention to the sign we post on the grand piano in the atrium, so they can find out when there are entertainers in the atrium. They're starting to come and listen."