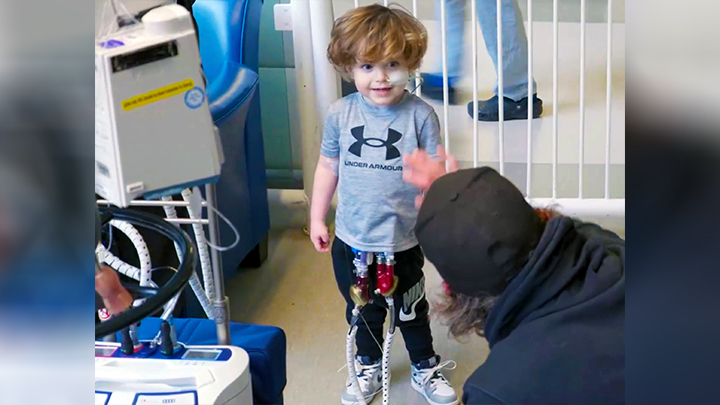 Three-year-old Greyson Eackett has been in the Stollery Children's Hospital for more than eight months. As he awaits a heart transplant, he recently started using his new ventricular assist device (VAD) driver to help pump his blood, with a longer battery life that's opening up a world of possibilities for more activities with his family. Photo by Evan Isbister.
Three-year-old first in North America to benefit from new heart technology
Story by Marni Kuhlmann | Photo by Evan Isbister
EDMONTON — Three-year-old heart patient Greyson Eackett is moving around better than ever these days, thanks to new technology for his ventricular assist device (VAD) which helps to pump his blood.
Greyson is one of two patients at the Stollery Children's Hospital who are the first in North America to use a new lighter, more mobile, driving unit for their VADs, giving them more independence while awaiting a heart transplant.
A VAD is used in patients experiencing heart failure, which occurs when their hearts are not able to pump enough blood. The VAD comprises a surgically implanted pump, tubes that connect the pump to the heart, a control system, a power source and a driving unit, which pushes air in and out of the pumps to help move blood through the heart to the body.
Until now, the only option for VAD drivers for young pediatric patients, who weigh less than 25 kg, was a large, heavy machine weighing between 70 to 90 kg, with a limited battery life. Patients could only be away from their power source for 20 to 30 minutes, which limits their activities in hospital.
The new device — the Berlin Heart EXCOR Active — weighs only 13.5 kg, with more mobility and a longer battery life. Patients can now leave their power source with 10-12 hours of battery life. This allows walks in the hospital and longer visits to physiotherapy as well as outside of the hospital. The new device also runs much more quietly, which helps children sleep better.
"Unfortunately, our wait times for heart transplant in Canada are quite long, so even our highest-priority transplant patients can wait six months, a year or longer in hospital," says pediatric cardiologist Dr. Jennifer Conway, director of the Stollery Heart Function and Cardiomyopathy Program. "This new VAD driver can dramatically improve the patient and family's quality of life while waiting in hospital during that time."
The new device could be "the first step" toward being able to discharge these patients home while they await transplant, says Dr. Holger Buchholz, director of the Pediatric and Adult Artificial Heart Program at the Stollery Children's Hospital and Mazankowski Alberta Heart Institute.
"Our goal is not to have patients waiting for months in a hospital," he adds. "We want to try to get them home, integrate them in their normal life again, go to school, the playground, be able to be around their friends and siblings. It's really the next step for better healthcare and better outcomes."
Greyson has been staying full-time at the Stollery for more than eight months. His dad Roy is thrilled with the possibilities the new VAD driver brings.
"It's unbelievable," he says. "The ability to get him out, get him exercising, building muscle, becoming stronger, really increases our chances for a quick recovery once we do get the gift of transplant. It's no longer the limitations of the machine holding him back. It's just his physical limitations and now we can work on decreasing those limitations. It makes me feel really good."
The Pediatric Ventricular Assist Device (VAD) Program is a joint program supported by the Stollery and the Mazankowski Alberta Heart Institute. It's one of the largest VAD programs in North America and has been at the forefront of mechanical circulatory assist device treatment since 2005, when the program became the first pediatric site in Western Canada to implant a Berlin Heart left VAD.
The program received special approval from Health Canada to use the Berlin Heart EXCOR Active, since the device is not yet widely approved in Canada.
The Stollery Children's Hospital/Mazankowski Alberta Heart Institute team is a member of the Western Canadian Children's Heart Network, a group of pediatric cardiac programs across Western Canada that work in collaboration to deliver the best possible care for pediatric cardiac patients. The Stollery/Maz program is Western Canada's largest referral centre for pediatric cardiac surgery and a national leader in pediatric heart transplantation.