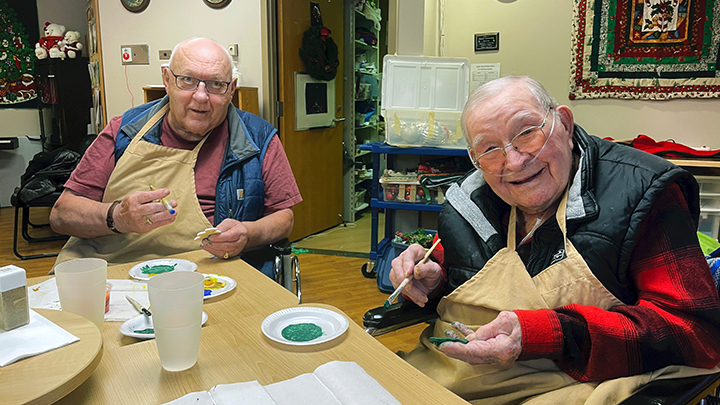 Roy Hale, left, and Peter Barnay paint salt-dough ornaments as part of the holiday celebrations held for long term care residents at the Devon General Hospital. Photo by Joan Straathof.
Long Term Care residents enjoy festive fun with community support
Story by Amelia Schofield | Photo by Joan Straathof
DEVON — Thanks to the efforts of frontline staff and community members, Long Term Care (LTC) residents at the Devon General Hospital are celebrating this holiday season with a variety of festive activities throughout December.
"Christmas is always such a busy time with parties, music and food!" says Joan Straathof, therapy assistant with the LTC unit at the Hospital. "These are traditions that we try to maintain for our long term care residents and — with the help of the residents' family, volunteers and community members — we offer a full schedule."
Leading up to Christmas, residents can enjoy musical entertainment by Devon Christian School, Mountain Sapphire, The Devon Travelling Choir, The Sunbeams, and Norm (Rice) and Shirley. In addition, residents will make their own music with singalongs and a handbell choir, with their talents to be the centrepiece of a live holiday show. Regularly scheduled songs and stories will complement the month.
"Three of our nursing staff also share their time and talents by shopping for Christmas presents on behalf of the Devon General Hospital Foundation," adds Straathof, "Thanks to this effort, residents will receive gifts that are truly customized for them."
Through generous donations, the Devon General Hospital Foundation provides the long term care unit with an $8,000 grant each year. The funding pays for Christmas gifts for the residents as well as entertainment, treats, crafts and bus trips throughout the year.
"We're proud to support our local long term care residents because they are our family, neighbours and members of our community," says Barb Wallace, chair of the Devon General Hospital Foundation.
"Many of our foundation members have resided in Devon for many years and have had loved ones stay in long term care. It's important for us to show our support and make life as kind as possible for these individuals." According to Straathof, their community support doesn't stop there.
"The Devon Lion's Club share poinsettias for each of the residents. Our local organization, Santa for Seniors, also collects and distributes beautiful gifts to each of the residents," she says. "The joy that these gifts bring are a delight to see and, for some, these may be the only gifts that they receive."
On Dec. 17, each of the residents will also be able to host three guests for a sit-down tea to share eggnog, hot cider and treats. On Christmas Day, nursing staff will help residents open their gifts while Nutrition and Food Services readies a traditional feast of turkey, stuffing and sticky pudding for dessert.
"Christmas here is always a busy and happy time thanks to the many, many people that help make it so," adds Straathof.
"We're so grateful to our long term care staff, our foundation partners and the many other community members who work hard to make the holidays a special time for our long term care residents," says Tod Pharis, site manager, Devon General Hospital. "The many activities they plan bring such joy and happiness to our residents, and we couldn't be more grateful for their efforts."
---
Learn more about the Devon General Hospital Foundation.