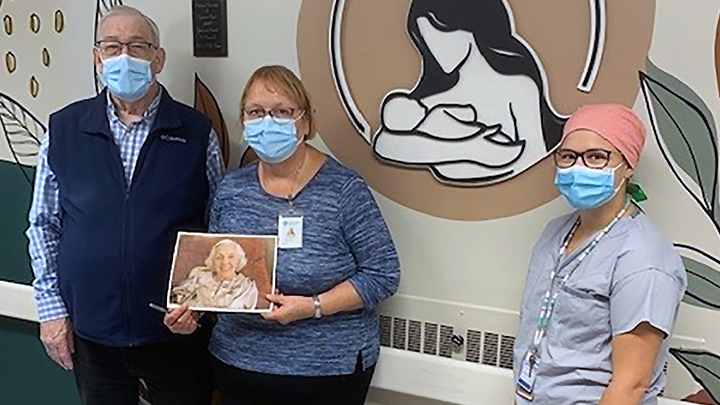 Allen Ford, left, a friend of the Riome family, joins Dr. Beverly Brilz and Dr. Cheyanne Vetter in recognizing the late Molly Riome (shown in photo held by Dr. Brilz). A donation made by Molly and her late husband Bill has funded esthetic upgrades and new equipment for the Obstetrics unit of the Wainwright Health Centre. Photo supplied.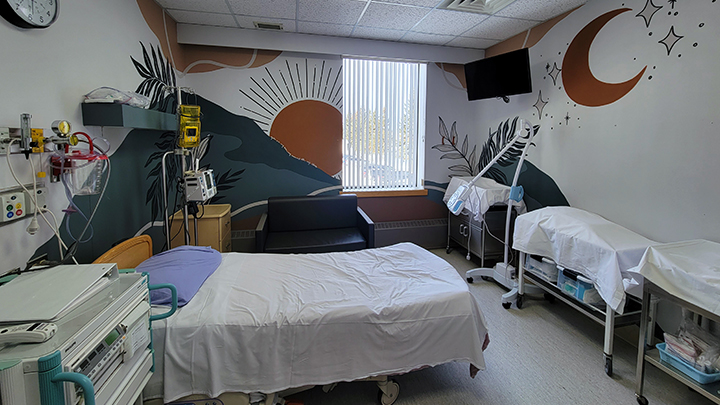 Bill and Molly Riome's donation helped support esthetic upgrades throughout the Obstetrics unit of the Wainwright Health Centre. Photo supplied.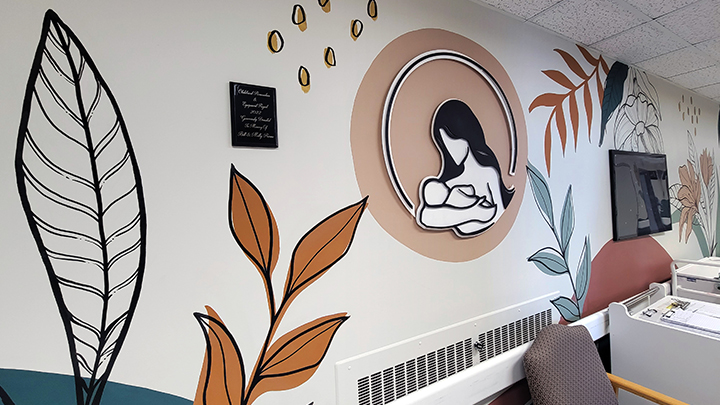 Another view of the esthetic upgrades funded by Bill and Molly Riome's donation. Photo supplied.
Family's bequest funds patient-friendly updates to unit
Story by Amelia Schofield
WAINWRIGHT — Families experiencing the birth of a child are now benefitting from new esthetic upgrades and medical equipment on the Obstetrics unit at the Wainwright Health Centre. The updates were made possible through a generous donation by the late Bill and Molly Riome, longtime town residents.
Born in Ireland, Molly grew up in the Isle of Man and met her husband, Bill during the Second World War. Following the war, Molly and her mother moved to Canada where she married Bill, and they purchased a general store in Wainwright. The store was eventually converted to a grocery store, which they operated until the late 1990s.
"They were both active in the community," says Allen Ford, a close family friend and executor of Molly's estate. "Bill was a longtime member of the Royal Canadian Legion in Wainwright and both he and Molly were involved in the Anglican church. They also contributed their time to other community groups over the years."
Their only child, Sherida Layne Riome, was born at the Wainwright Health Centre in 1950 and sadly passed away shortly thereafter.
"After their experience, Molly always had a desire to support the hospital nursery and she decided to leave a gift in her will for that space," adds Ford. "With the changes to the hospital over the years, there's no longer a nursery, so the chair of Wainwright District Health Foundation asked me about using the funds instead for improvements to the Obstetrics unit."
With Bill and Molly's gift, patient rooms and common areas were upgraded with new paint, art, signage and shelving to modernize the space and enhance the experience for families and their newborns. Their donation also funded several new pieces of equipment, including a fluid warmer cabinet, portable clinic lights, Bili blanket, sleep chairs, epidural chair and jaundice meter.
"Thanks to Bill and Molly's donation, we made several improvements to the Obstetrics space to support the comfort of our patients and families," says Jamie MacKay, registered nurse, and past assistant head nurse for Obstetrics at the centre.
"We were also able to add several pieces of equipment, which we know through research promotes better newborn outcomes. For example, we were able to purchase an epidural chair which allows pregnant women to be in a safe, relaxed and supported position for epidurals. With the patient in a more comfortable, accessible position, the anesthetist can complete the epidural for them much more quickly."
"This was an incredibly gracious, thoughtful donation that will touch many lives. With this gift, Bill and Molly's memory will continue to live on and continue to honour a safe, caring, and compassionate patient-centred environment," adds MacKay.
"I'm sure Molly would have been very pleased with the whole thing," says Ford. "I think what they did with the space is absolutely wonderful."
Bill and Molly's donation was made to the Obstetrics unit through the Wainwright District Health Foundation, which fundraises for new medical equipment, programs and services at the Wainwright Health Centre.
"This is a very heartwarming story of why Bill and Molly were so passionate about the maternity ward in our local health centre," says Bill Lawson, chair of the Wainwright District Health Foundation.
"I was pleased that we could finally use the funds for the much-needed upgrades to the obstetrics department and fulfil the wishes of these two very generous individuals."
"We will always be grateful to Bill and Molly for making this deeply meaningful gift to the Wainwright Health Centre," says Andrea Thain Liptak, senior operating officer, Rural Acute Care, Allied Health, Primary Care, & Indigenous Health, Central Zone, Alberta Health Services.
"This beautifully refreshed space will greatly enhance the experience of families — and the impact of Bill and Molly's generosity will be felt for many years to come."
---
Learn more about the Wainwright and District Health Foundation.