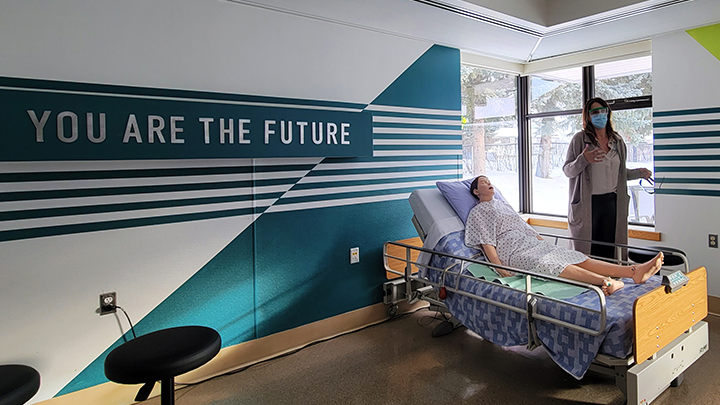 Jamie Malone, the former area manager and brainchild of the program, speaks about the hands-on training portion of the Bachelor of Nursing Program – Rural Community in Wainwright. Photo by Tracy Kennedy.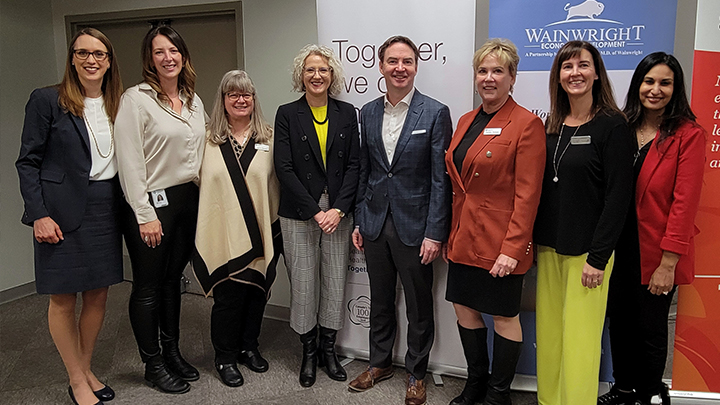 Program partners in attendance at a December celebration of the second year of the RN program included, from left: Dr. Heather Bensler, UCalgary Academic Partnership assistant dean; Jamie Malone, former Wainwright AHS area director; Janice Stewart, AHS Central Zone chief zone officer; Dr. Sandra Davidson, UCalgary Faculty of Nursing dean; Jason Copping, Alberta Health Minister; Carolyn Trumper, AHS executive director and BN program steering committee co-chair; Carley Hebert, Wainwright Economic Development officer; and Dr. Zahra Shajani, UCalgary associate dean and BN program steering committee co-chair. Photo by Tracy Kennedy.
Wainwright residents pursue RN dream and degree in their community
Story & photos by Tracy Kennedy
WAINWRIGHT — For many rural residents, there truly is no place like home. So when a new, home-grown program allowed residents within 120 km of Wainwright to earn a Bachelor of Nursing degree in their community, the program filled up with students happy to stay put while pursuing their post-secondary dreams.
A partnership of the Government of Alberta, Alberta Health Services (AHS), the University of Calgary (UCalgary) and Wainwright Economic Development, the Bachelor of Nursing Program – Rural Community launched in 2021 with an intake of eight students and followed with a second intake of eight more students last September. The program combines a hybrid learning model of virtual course delivery courtesy of UCalgary along with hands-on training at AHS' Wainwright Health Centre.
"Without leaving their home community, students can attend the four-year bachelor's program, and once their degree is complete, today's students can get right to work as tomorrow's registered nurses — ideally right here in this region," says Carolyn Trumper, an executive director with AHS' Central Zone and co-chair of the program's steering committee.
Trumper says grow-your-own rural training is an important piece of the healthcare recruitment puzzle and adds there will be jobs waiting for students once they complete their education.
Among the first cohort of students is a mother of 12 who's lived in the Wainwright area for 17 years — and who was sold on the benefits of rural program delivery.
"The first year of studies was an adjustment," says Gaeleen Ratté, who adds that studying from home significantly reduced several stressors, including homeschooling her children.
"The ability to learn during the quiet hours in my house was invaluable, as I was available for my children when they needed me, but could still fit in my studies when it worked best for me.
"I believe there are many people like myself who are interested in becoming a nurse, but due to family commitments, financial prohibitions or other responsibilities, cannot travel to or stay in cities for the education they desire," she says.
"Providing a rural nursing program gives people who already live rurally — and understand both the challenges and benefits of this lifestyle — the opportunity to further educate themselves and give back to their communities."
Program partners — including Health Minister Jason Copping, students and healthcare advocates — gathered on Dec. 7 to officially celebrate the program at an event that also paid tribute to the community supporters who have contributed to the program's success.
Local business Bumper-to-Bumper sponsored classroom space while donations were received from Hardisty Auxiliary Guild, the Viking Health Foundation, the Provost and District Health Services Foundation and Red Deer Regional Health Foundation.
"We planted the seed for the program, and we're so grateful that our supporters helped it grow," says Jamie Malone, the former area manager for Wainwright who has since moved on to another role within AHS.
"If you live here, you know you can go into any one of our healthcare sites in surrounding communities, speak with a longtime employee, and you'll find out that these individuals have roots in the community," Malone adds.
"Our biggest challenge in our rural and remote regions is finding and keeping the trained staff who want to commit long-term to working in, and living, the rural lifestyle. So, we thought: 'Why not train them locally?' And everyone collaborated to make it happen."