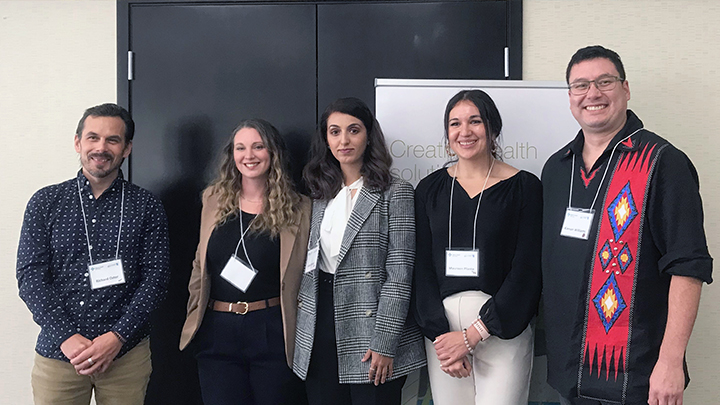 Alberta Health Services' Studentship program invites post-secondary students to participate in research on Indigenous care. From left are: Dr. Richard Oster of the Indigenous Wellness Core's Scientific Office; student participants Samara Wessel, Suha Damag and Maureen Plante; and Kienan Williams, a program lead in Innovation and Research, Indigenous Wellness Core. Photo supplied.
Indigenous Wellness core seeks post-secondary students to participate
Story by Kim Bradley
Alberta Health Services' (AHS) Indigenous Wellness Core is looking for post-secondary students to join its unique Studentship program for 2023 to assist with research on Indigenous care.
Three students who took part in the 2022 Studentship program describe their experience as an exceptional opportunity that's furthered their careers and knowledge of programming in Indigenous health and equality in and healthcare.
"I would highly recommend this opportunity, especially for Indigenous students, because you're in a space with like-minded researchers who care about what they're doing," says Maureen Plante, a participant who completed her masters in educational psychology (specializing in counselling) while participating in the 2022 program. She's returning to school this fall to take her PhD.
"My confidence as a researcher grew," she adds. "For any researchers wanting to incorporate their Indigeneity into their research, this is a really good opportunity. Bring in your culture and your authentic self. As new and emerging scholars, we need space to do that."
Participant Samara Wessel, a second-year masters of psychology student, focused on research related to psychiatric services and the validity of using risk-assessment tools with Indigenous clients.
"Recognition of our western approaches just aren't fitting," says Wessel. "One of the biggest benefits is making connections and getting involved in research that is rewarding and needed in this area."
PhD student Suha Damag says incorporating Indigenous ways of knowing into research has directly contributed to her studies.
"It's helped me a lot to be exposed to the culture, the Ways of Knowing of Indigenous peoples, and how to conduct my research in a respectful way," says Damag. "Part of my PhD is looking at all of the programs that are making the system more accessible. For anyone thinking of applying to this program, I would say get your application ready. It was such an experience, especially if you're new to the field."
Dr. Richard Oster, who heads up the Indigenous Wellness Core's Scientific Office, says successful candidates are paired with projects that align with their interests.
"Indigenous Health can be a really emotional space, so we created safe spaces for students to work in," he adds. "Students have a unique and different way of thinking of things. They're fresh and have great ideas, and need to be empowered."
---
A total of three stipends will be awarded in 2023. The Studentship is open to Indigenous and non-Indigenous Alberta post-secondary students. The deadline to apply is March 31. Students interested in applying for the program can reach out to Iwc.innovation.research@ahs.ca.