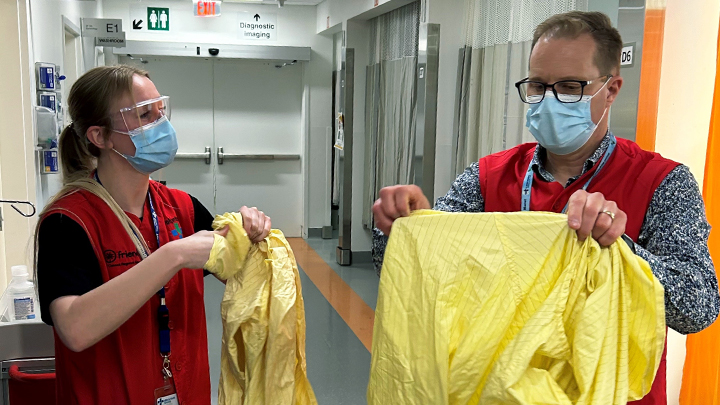 Alberta Health Services' volunteers and recipients of the Queen Elizabeth II Platinum Jubilee Medal include, from left: Roberta Saltvold, Rebecca Liedtke and Sheryl Van Otterloo.Photos supplied.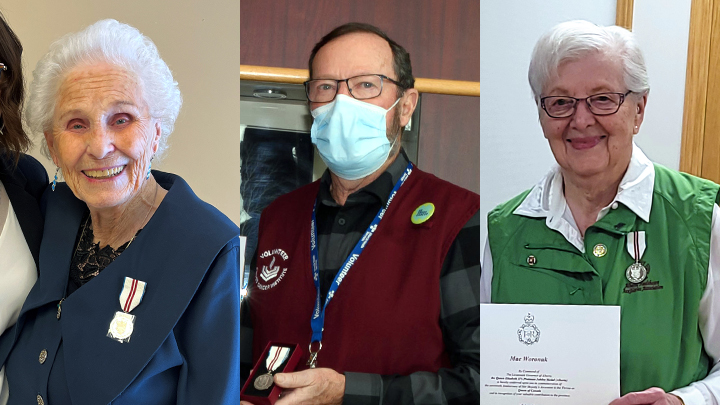 AHS' volunteers and recipients of the Queen Elizabeth II Platinum Jubilee Medal also include, from left: Jeanne Jensen, Jim Retallack and Mae Woronuk. Photos supplied.
Six awarded Queen Elizabeth II medals for decades of giving
Story by Cassie Ford
Six Alberta Health Services (AHS) volunteers from across Alberta have been awarded Queen Elizabeth II's Platinum Jubilee Medal in recognition of their contributions to the province.
The commemorative medal was created in 2022 to mark the 70th anniversary of Queen Elizabeth II's ascension to the throne. Throughout the year, it was awarded to 7,000 Albertans across all walks of life.
Nominated by AHS staff members for their selflessness and dedication, at least one volunteer from every zone received the prestigious award.
Here are their stories:
Rebecca Liedtke began volunteering as a patient and family advisor at the Stollery Children's Hospital after her son was diagnosed with cancer.
"I felt a strong push to give back to the Stollery through volunteering," she says. "Volunteering provides me with a deeper sense of service above self."
Liedtke adds she believes volunteers — who have lived experience, passion for their causes and who believe in giving back for the greater good — are vital to the success of an organization.
Mae Woronuk recently celebrated 50 years of volunteering with AHS. At 99, she still endeavours to improve the lives of patients and staff at the Central Peace Health Complex. A long-time member of the hospital auxiliary, she and the other members would get together to sew, crochet or bake in groups, with all their proceeds going to the hospital.
"That was very important to me," says Woronuk. "I'm proud that the proceeds of my efforts over the years have gone directly to the Central Peace Health Complex."
Jeanne Jensen has been volunteering with AHS since 1997, beginning at the hospital in Sundre and moving to the Cardston Health Centre in 2017. She's taken on many roles, but currently spends time with continuing care residents, visiting and facilitating Bingo.
"You grow to love each and every one of them because they're all different and come from different walks of life," says Jensen.
Sheryl Van Otterloo has volunteered with AHS in many capacities and at many sites across Calgary since 1996. To name just a few, she's crafted items for patients, cuddled babies in the NICU, and helped with the No One Dies Alone program, wayfinding and fundraising.
"Helping to create a more enjoyable or welcoming environment for patients and staff makes me feel as if I am contributing in a meaningful manner to those who need help," says Van Otterloo. "It gives me a warm heart, and I know my skills are appreciated."
Roberta Saltvold has volunteered as a patient visitor at Red Deer Regional Hospital Centre for the past 20 years.
"It's been my one-and-only role for my entire volunteer stint." She visits with patients who've been identified as in need of company, providing a blanket or water, going for walks or simply chatting.
"I get more than I give with volunteering," adds Saltvold. "Everyone has an interesting story, and I enjoy the variety of ways I can brighten a patient's day."
Jim Retallack is a retired high school teacher who began volunteering at the Cross Cancer Institute when his wife was a patient there. As a shuttle van driver, he brings patients to and from their medical appointments. He says he aims to ease some of their anxiety and allow them to focus on their treatment.
"Dealing with cancer is a very stressful situation," says Retallack. "There are people who need support and encouragement, and I can provide that in a way similar to the help I provided my wife."
---
National Volunteer Week runs April 16-22 this year. Share your appreciation for volunteers through AHS' Sharing the Love, on thanksforcaring.ca or by using the hashtag #NVW2023 on social media.