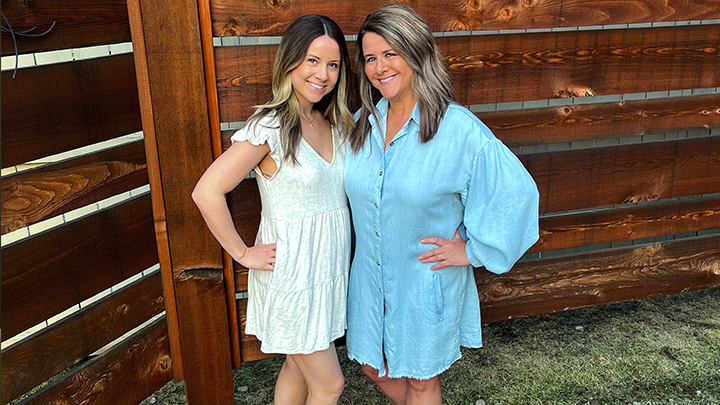 Registered Nurse Karen Pelletier, with almost four decades of caring for newborns in neonatal intensive care, inspired her daughter Jamie Faulkner, an RN in cardiology, to follow in her career footsteps. Today, the mother-daughter duo work in different units at the Royal Alexandra Hospital. Photo supplied.
Nursing opportunities at Royal Alex attracted family duo
Story by Sharman Hnatiuk
EDMONTON — As a mother and Registered Nurse with 38 years of experience working in the Stollery Children's Hospital's neonatal intensive care unit (NICU) located at the Royal Alexandra Hospital (RAH), Karen Pelletier always felt that nursing would be the right fit for her daughter Jamie.
Pelletier was just 17 when she started her post-secondary education with the RAH School of Nursing. Upon her graduation in 1986, she joined the NICU team and has proudly worked in neonatal care at the RAH ever since.
"From a very young age, I wanted to go into nursing because I always had a desire to care for others. As a profession, I thought it would a great opportunity for Jamie because she's always had the heart to serve others," says Pelletier, patient care manager, NICU.
Jamie Faulkner recalls she wasn't exactly sure what she wanted to do after high school, but decided to follow in her mother's footsteps after learning just how diverse a career in nursing could be.
"She definitely influenced me by sharing her work experiences over the years," says Faulkner. "Although my preceptorship was in palliative care at a smaller site, which I loved, she inspired me to apply at the RAH because of the opportunities working in a big hospital could create."
Faulkner joined the general thoracic surgery and trauma float pool in 2017, and accepted a position on the unit shortly after. She was able to gain valuable experience while expanding her skills, before moving over to RAH cardiology in the fall of 2022.
Now, with a 19-month-old at home and another baby on the way, Faulkner says she's incredibly grateful for the flexibility of her nursing career as she navigates the world as a new working mom.
As Mother's Day approaches, Pelletier adds that she's incredibly proud to have her daughter sharing in her profession at the same site — and isn't surprised that she has colleagues whose children have also followed them into healthcare.
"When children see the rewards and gratification that their parent gets when they go to work every day, that models the type of career they would like for themselves," says Pelletier.
"While nursing can be a challenging career, I knew Jamie had the strength to overcome the hardships and thrive on what really matters – being the best that you can be for your patients and their families."