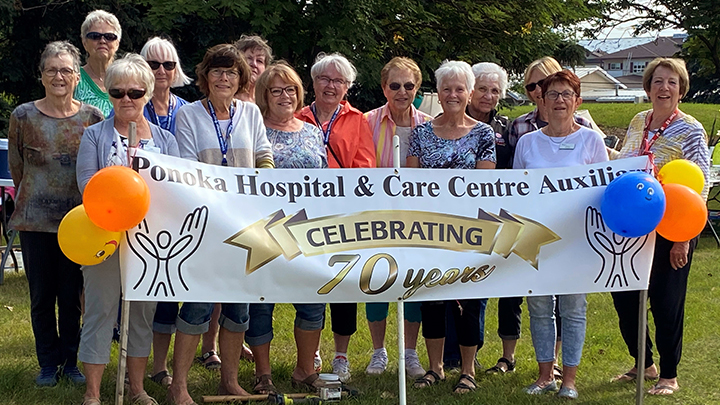 Members of the Ponoka Auxiliary are celebrating more than 70 years of dedication and volunteerism. In June, they hosted a garage sale to raise funds for equipment and projects at their hospital. Photo courtesy of Leanne Brusegard.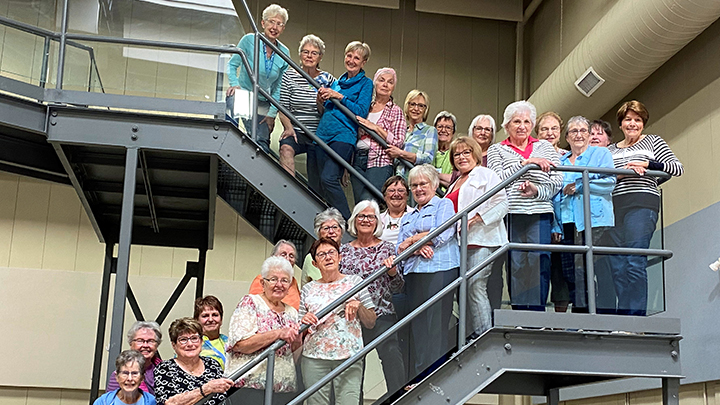 More members of the Ponoka Auxiliary step up for a stairwell group photo as they mark more than 70 years of service. Photo courtesy of Leanne Brusegard.
Ponoka Auxiliary marks seven decades of giving patients comfort and care
Story by Jonathan Koch | Photo by Leanne Brusegard
PONOKA — For the Ponoka Hospital and Care Centre Auxiliary, the more things change, the more they stay the same.
Founded in 1950, members of this treasured institution are celebrating more than 70 years of supporting patient comfort and care at Ponoka Hospital. Fifty members strong, the founding spirit of the auxiliary lives on, thanks to the tireless work of generations of local volunteers whose efforts have helped to buy more than $500,000 in equipment and supplies for the hospital.
Joyce Mackenzie, a member of the auxiliary for 16 years, and president for the last 10, reflects on her organization's colourful beginnings.
"The first 50 years I would say, it was hard, I mean, they sold cigarettes," Mackenzie recalls with a chuckle, "and they had baby sweaters, and they sold chocolate bars.
"We had like, a kiosk, a little hole in the wall, where patients could come up and purchase items. Quite a few years ago we supplied a cart to the youth volunteers to take around.
"Now we fund an activity cart through Volunteer Resources, and we deliver magazines, books, puzzles and other items free of charge to the patients in Acute Care."
Over the years, the auxiliary has expanded their onsite offerings and supplements their fundraising efforts through raffles, vending and ATM machines, and volunteering at casinos.
While there have been changes over the decades, some traditions have stood the test of time. The auxiliary continues to sponsor long-running initiatives, such as an annual $500 community volunteer award given to a local high school graduate pursuing post-secondary studies in healthcare. There is also the Florence Nightingale tea to honour local nurses, with servings of cake and ice cream with strawberries and raspberries for staff and patients.
Newer traditions see patients and long-term care residents getting a live plant for special occasions.
"We get to deliver the plants to the patient ourselves. We talk to the patients and tell them 'Merry Christmas', or 'Happy Thanksgiving', or whatever the occasion may be, and they just love it," says Mackenzie. "Their eyes just sparkle. That's one of our favourite things that we get to do."
According to Leanne Brusegard, coordinator of Volunteer Resources at Ponoka Hospital and Care Centre, auxiliary members "do the little things that some people just don't think about. They make a huge impact and a huge difference on different things that they purchased for the hospital."
Brusegard adds that recent acquisitions include lifts, transport chairs and holter monitors (a type of portable electrocardiogram).
Glenda Gaudet, site lead and acute/endo/OR manager, says the healthcare team is "very grateful" for the auxiliary and its positive impact.
"They've been vital in every part of the site from the OR, to Long Term Care, to our Acute Care patients, and providing equipment to meet the needs of the patient population," she says.
"They help us have the ability to provide the best quality of care with updated equipment — and make the staff feel confident in the equipment they're using to provide that top-quality care to our patients here in Ponoka."
The ladies of the Auxiliary live their mantra each day — providing comfort and care — and create a welcoming atmosphere for all who enter Ponoka Hospital and Care Centre, Brusegard adds.
"Sometimes they're the first contact if someone's coming into the hospital when they go to the gift shop. They're always pleasant and willing to help.
"They make such a huge difference. They're so appreciated. We're so thankful to have them here."