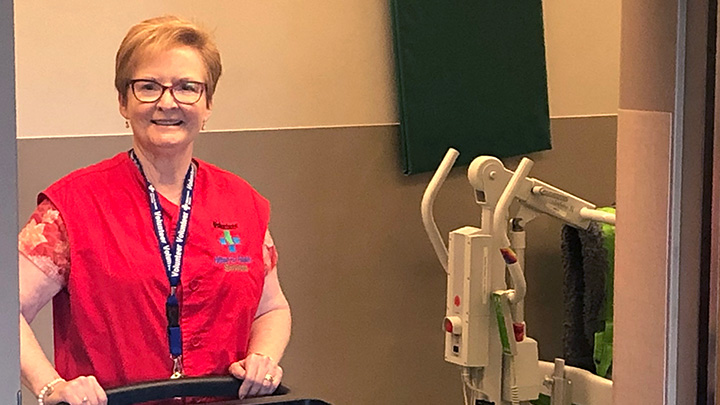 Pat Marshall, a spiritual care volunteer at Medicine Hat Regional Hospital, visits patients in an effort to update religious preference records — and to bring comfort and an empathetic ear.
Retired lab tech updates Connect Care files with religious preferences
Story by Kelly Morris | Photo by Tyrone Edwards
MEDICINE HAT — Pat Marshall is no stranger in the halls of Medicine Hat Regional Hospital (MHRH), having worked in healthcare for nearly 50 years. A retired laboratory technologist, she's familiar with coming and going from patients' rooms and chatting briefly while drawing a blood sample. Today, she finds the same joy in brief encounters as she provides a friendly presence and an empathetic ear to patients and their families in her new role as a volunteer.
She also honed her people skills by serving as a spiritual care volunteer in connection with her church — a role that connects members of religious organizations with hospital patients of the same faith.
MHRH volunteer coordinator Tyrone Edwards soon recognized Marshall's outgoing nature and ease in communicating with patients and invited her to take on a new role — helping to update religious preference on healthcare records.
With the upcoming launch of Connect Care in the South Zone, updating religious preference records will assist in having this information follow the patient wherever they may be in the province. Understanding a patient's religious preference can also help to connect volunteers and members of their community to provide support during tough times, and may also impact patient care with regards to dietary needs and days and times of religious importance and ceremony.
"It's probably the best, most rewarding and enjoyable volunteering I've ever done," says Marshall. "These are people who, for whatever reason, didn't have that differentiation when in the hospital. So that's the joy that I have every Wednesday when I go around to anywhere between 25 and 30 patients, and ask them if they want to have their religion or faith or church put on their file.
"They can say no and then I tell them, 'we won't ask you anymore, once it's on record, we won't be bothering you'. It has turned out to be, very surprisingly, very rewarding. I was surprised how much the patients were interested in it."
Marshall shares one experience of meeting an atheist patient. He thought she'd be disappointed that he wasn't religious, but when he saw she was truly there to help and respect his wishes, he admitted he'd still appreciate a visit. In many cases, Spiritual Care isn't just for religious individuals — it's for any patient that would appreciate a friendly and empathetic visitor during a tough time.
She's also recognized that having a record of religious affiliation is not just helpful for the patient, but for their families as well.
"I had one experience where the patient was from out of town and his wife and his son were there," says Marshall. "I knew that he was very ill, so when I talked to them about it, the mom turned to the son and said, well, you know, the Minister has been asking me how he's doing."
In that moment, Marshall took the opportunity to let the family know that the South Zone's Spiritual Health Practitioner can assist, and connect with the patient's church or minister to arrange a call or visit.
"It's really rewarding when that happens because you know you're helping, being able to make those connections," says Marshall.
Another memorable experience came after she met a patient who identified as Muslim. It was a Wednesday when they met, and the patient shared that Friday was an important day and requested a visit if possible. Marshall ensured a connection was made with the local mosque.
"Just think about it," says Marshall. "He was sitting there, and he's a little bit quiet and is in a different environment with people rushing around. And here's something important to him that he didn't think he was going to get, didn't even know he could ask for, and I was able to help make that connection."
Marshall emphasizes the difference between her role updating religious records and her previous volunteer role as a spiritual care volunteer. In her current role, she's non-biased and doesn't represent any specific faith group.
"This is different than spiritual care volunteering. When I go in, it doesn't matter to me what their faith is. It doesn't matter if they don't want to be included. It's just purposely cleaning this up in the computer system to help out — and I've had just great rewards of patients being so happy to know that they won't be asked again, or to know that they can get a visit. It's important to them and that's what matters."
Marshall adds: "I appreciate the support of the healthcare staff on the units. They've been so cooperative and so helpful, and they're appreciative of volunteers, which makes it very enjoyable."
Volunteer Resources continues to recruit individuals to support spiritual care initiatives, and for many other volunteer roles, in all AHS facilities across the South Zone. The position does not require previous medical experience or religious affiliation. It's recommended for anyone who enjoys a friendly chat, has empathy and who's confident and comfortable meeting new people in a healthcare environment.
"It's just a nice conversation is what you're having, really, because lots of times I'll carry on a little bit longer in conversation with them if they feel like they'd like to do that. It's so rewarding, and so needed, in my opinion."
---
To learn more about volunteering with AHS, visit Volunteers | Alberta Health Services. To apply to become a volunteer, contact your local volunteer coordinator or apply online.