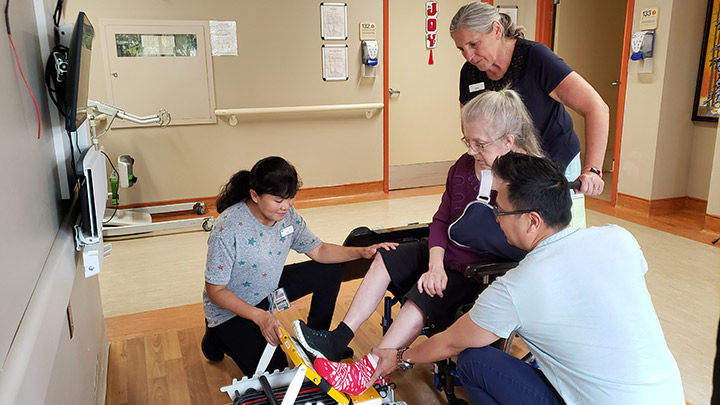 Recovering stroke patient Val Lewis is assisted with her exercises by physiotherapist Leah Sistoso, at front, occupational therapy assistant Diones Tizon and therapy assistant Diane Mills.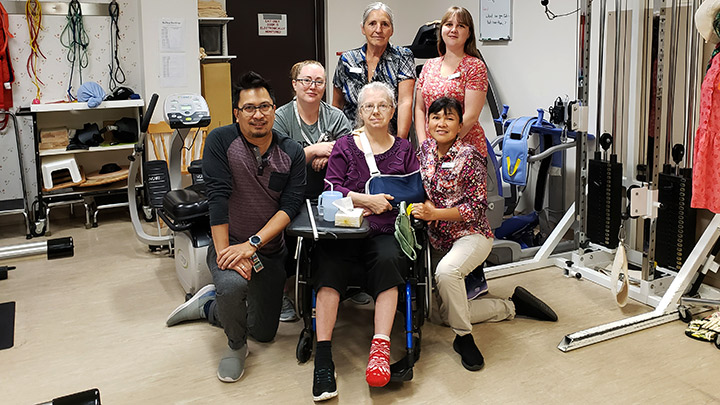 Surrounding new Long Term Care resident Val Lewis are members of her care team, from left: Diones Tizon, Nichole Lang, Diane Mills, Tiffany Schoenthal and Leah Sistoso..
After a stroke, senior fights the good fight with creativity and determination
Story by Tracy Kennedy
DRAYTON VALLEY — She calls herself a jokester, but Val Lewis doesn't kid around when it comes to keeping a good attitude during her stroke recovery.
The 73-year-old Entwistle resident works hard most days trying to increase her mobility, after a stroke in February left her with paralysis in her left leg and left hand and arm. After stints in acute care at both University of Alberta Hospital and Drayton Valley Hospital and Care Centre, she now resides in long-term care in Drayton Valley.
"I'm working on trying to get my leg back doing something," she says. "There's a slight promise on my leg but there is no promise of anything for my hand.
"And if I keep up with the therapy, my daughter and my husband are telling me: 'You can do it, Mom! You can do it. Just keep at it.' And so that's my plan."
Besides doing the exercises taught to her by her healthcare team, Lewis tries to keep busy in other ways.
Long a fan of writing stories, she's found the creative outlet more important than ever.
"Wake up, little Susie," she first said to her limp arm shortly after arriving in hospital. This line soon became the focus of a short story she wrote about Susie (her arm) and her "brothers" Steve and Sam (her legs).
"I just had this crazy thing in my head, and I do silly stories about all sorts of things. So that just came about because my poor little hand wasn't doing much," Lewis adds.
Therapy assistant Diones Tizon enjoyed Lewis' story and encouraged her to keep writing. "I know writing these stories keeps her busy and happy, and that can help her mood and recovery."
Even though she's motivated and optimistic, Lewis says it's important to note that she's also pragmatic and admits she can't be a ray of sunshine all the time. She tells the people around her what's she's feeling — and hopes they understand it's not always good. Suffering a stroke and fighting to regain mobility is a mighty big challenge.
"I'm a jokester. Apparently, I should be up on a stage somewhere — as a one-woman show. So I try to make fun of things like my condition, but sometimes I don't. Sometimes I'm a crybaby."
Physical therapist Leah Sistoso concedes that every individual's journey is different, but it's typical for a patient to experience sadness. She says when Lewis first came to hospital, she was driven to regain full mobility. However, once she learned that recovery would be a long road, it set her back.
"We had her talk to one of our other patients who is in long-term care who has almost the same condition as hers," adds Sistoso. "That resident is so motivated — and she inspired Val again, too."
Sistoso says care team members encourage Val to do her exercises and pursue her hobbies, including colouring.
"Val's been colouring pictures. It's so beautiful the way she combines the colours. Then her husband takes them home and laminates it and gives them to the staff."
Sistoso says she's hopeful that Lewis will improve with her move to long-term care (LTC) from acute care. The change will bring positives, she adds, such as LTC's structure, schedule, recreation therapy and opportunities to dine together with other residents.
"We've seen people that move from acute care to long-term care. They can thrive," says Sistoso.
Lewis says she's hopeful that she, too, can thrive — but knows she'll also face tough days ahead. Grateful for the visits from her husband, her daughter and grandsons, she adds that they help her move forward.
She'd like other stroke survivors to know that while the path is far from easy, there's hope.
"You can get past it. I know a few people may not be able to use a limb, but they're alive and they're out there. And my family gives me encouragement."
---
Wake Up, Little Susie
Val Lewis wrote this story, Wake Up, Little Susie, in the aftermath of her stroke, while at Drayton Valley Hospital and Care Centre:
"Wake up, little Susie," Steve sings to his sister.
Susie lies paralyzed, next to sibling, Sam.
Steve leans close to Sam as well and says, "Come on, Sam. We've fought battles before. You've helped me get through hip surgery. I'm here for you. Come on."
Brothers in arms and by family, Sam and Steve were soldiers who loved a song — but now it was only Steve who could sing. The family wished Sam could come back and be his old self instead of lying still in the hospital bed — but they also knew he was trying his hardest.
Sam and Susie were hurt in the Stroke War, while Steve was spared and was grateful for that.
Anyone could tell Sam was trying his hardest to get mobile again, but it was hard.
He would try to sit up, but to watch him, you could see the agony in his eyes. You could also see Sam gritting his teeth as he tried to move — but when he'd see Steve watching, he tried to smile. Even with his crooked face, he still looked handsome.
Baby sister Susie was a beautiful girl and was well-loved by both. She was harmed worse than Sam and it will be harder for her to get better. But she is going to try as much as Sam has.
Truth be told, Sam is my left leg and foot. Steve is my right leg and foot. Susie is my left arm.
I'm Val Lewis and I had my stroke on Feb. 19, 2023.
It happened just six months after I broke my hip and it's been rough trying to recover. I've got a long road ahead.
Even if Susie does not come back fully, I refuse to give up. I will exercise her, keep her circulation up and flowing. I will never give up on her as long as there is still hope and a chance. She is my girl.
Same thing with Sam. If he doesn't make a full recovery, I will keep up with the blood flow.
Even if he must wear a support, he will — and he will keep on working.
There's one more sibling I wanted to mention: Sally, or Miss Wobble Head.
Also known as my neck.
Sally was determined to strengthen her muscles and hold her head up high.
She did those exercises and she doesn't wobble any more. I couldn't be more proud.