Addictions site set to help
Addictions site set to help
May 28, 2013
New resource for businesses
Story and photo by Mark Evans
A newly designed website launched by Alberta Health Services provides employers and employee assistance professionals with detailed information about the Business and Industry Clinic, a residential addiction treatment program.
The Business and Industry Clinic, located at the Northern Addictions Centre in Grande Prairie, provides specialized residential addictions treatment clinic for employees experiencing serious difficulties resulting from use of alcohol and other drugs. It provides a professional treatment option to employers who wish to help a worker become a healthy, safe employee.
The new website http://businessindustryclinic.ca/ contains information and resources for employers looking for treatment options to support an employee experiencing addiction. The site also includes tools and information for the clinic's clients and families.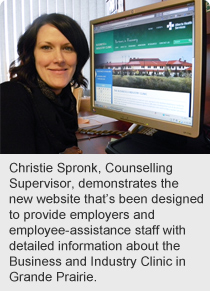 "Our clinic provides treatment options for employers and their employees across Canada," says Christie Spronk, Counselling Supervisor with the Business and Industry Clinic. "Our new website is designed to help us reach out to employers across Canada with a similar web presence to other facilities in the country."
Last year the clinic provided treatment services to 126 clients from across all provinces in Canada.
"Alcohol and other drug use in the workplace costs business and industry more than $2.8 billion per year in lost productivity in Alberta alone," said Spronk. "It also costs lives. If left untreated, substance abuse contributes to unsafe work practices, accidents and increase risk of injury; depression, stress, reduced morale and other emotional problems; increased absenteeism, and higher workers' compensation and insurance costs; and illness related to alcohol and other drug use."
The Business and Industry Clinic is a 12-step, abstinence-based program that provides all the services under one roof including medical detox and a residential program. It also offers access to a fully equipped gym, and its location provides easy access to the nearby park system, services and leisure opportunities in Grande Prairie.
The clinic also offers five or seven months of follow-up where clients make weekly telephone contact with a follow-up Counsellor and monthly reports are sent to the referral agent or employer, explains Spronk.
Participants learn how to cope, appropriately deal with issues, and develop their decision-making skills, which they incorporate into their work and personal lives helping them address their addiction.
"Most Business and Industry Clinic clients are employed and facing an addiction. The program offers employers a way to re-integrate employees back into the workplace and onto the path to recovery," says Spronk.
Since 1994, the Business and Industry Clinic has worked with employees, employers and unions to explore substance use in the Alberta workplace. The Business and Industry Clinic was designed in consultation with professionals in business, industry, occupational health, Employee Assistance Programs (EAP) and Employee and Family Assistance Programs (EFAP).