More than 85 Alberta health care professionals this week heard the Chief Medical Officer of England talk about how front-line health workers in that country were impacted by the creation of the National Institute for Health Research.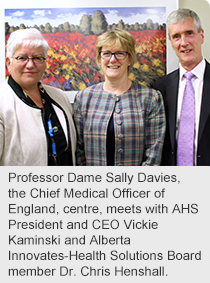 Professor Dame Sally Davies spoke on Tuesday, June 10, at the Westin Edmonton as part of a health policy speaker series presented by the Institute of Health Economics and Alberta Innovates – Health Solutions.
Dr. Davies's role is to guide government decisions on all matters of public health, including such issues as superbugs, drug trials and obesity.
She developed the National Institute for Health Research in 2006 with a budget of £1 billion. A hematologist by training, her research interests focus on sickle cell disease.
During her visit, she has several meetings planned with health care executives and practitioners.