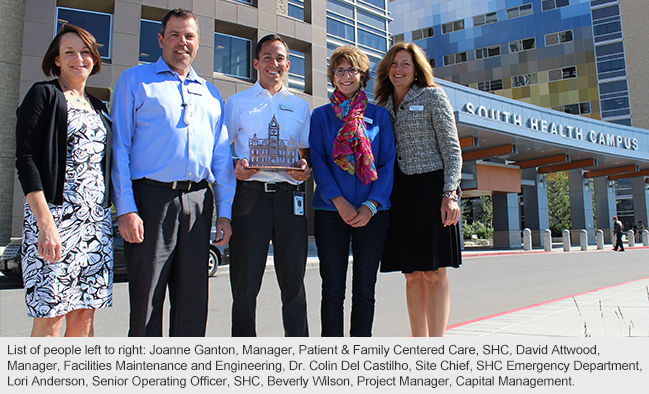 CALGARY – The South Health Campus has been honoured by the U.S.-based Institute for Patient- and Family-Centered Care for working and collaborating with patients and their families as partners in care.
The campus is one of 12 hospitals from across North America – and the only Canadian site – selected as an exemplar health facility by the institute for its new campaign, Better Together: Partnering with Families.
"Family presence is an important component of our patient- and family-centred approach at the South Health Campus, so we are very appreciative of this recognition by the Institute for Patient- and Family-Centered Care," says Lori Anderson, Senior Operating Officer, South Health Campus.
A patient and family council has been involved with South Health Campus since the early planning stages of the design and construction of the facility. The council has worked with site staff and leadership to shape the operation and culture of the facility.
The South Health Campus, and the other 11 exemplar hospitals, "understand how important it is to partner with patients' families instead of treating them as outsiders who are interfering in their loved one's care," says Beverley Johnson, President and CEO of the institute.
"Hospitals that have changed their policies are proving that giving patients the access they want to their loved ones actually helps them get better."
Recognition from the Institute for Patient- and Family-Centered Care is one of three honours recently bestowed upon the city's southeast hospital.
Earlier this month, the campus received an Award for Accessibility by the City of Calgary for ensuring the disabled community can access the facility, and a Silver LEED designation for environmental design, which was issued by Canada Green Building Council.
In March, SHC planners and architects received an award in the institutional category for sustainable design from Excellence in Design Magazine.
Vickie Kaminski, President and CEO of Alberta Health Services, says everyone involved in making the South Health Campus what it is today should be proud of their work and commitment.
"These awards put a spotlight on the leading-edge design, planning and consultation that went into creating the campus and improving the care experience for Albertans," Kaminski says.
"Patient- and family-centred care is a concept of care that should be at the centre of all we do at AHS," Kaminski adds. "The work being done at the South Health Campus can help point the way to better care for Albertans and their families across the province."