50 Lethbridge and area health-care professionals find time to play together as participants in the annual Dragon Boat Festival
Story and Photo by Sherri Gallant
The formation of two AHS teams for Lethbridge's annual dragon boat festival June 27-29 has become a perfect example of successful staff engagement.
Jo-Ann Wilcox Jackson is the crew manager for the AHS LifeSavers (a 26-member women's team) and AHS Sync or Swim (a mixed team with 24 members).
"As the crew manager, I am the person responsible for the welfare and conduct of all team members during practices and on the race weekend," says Wilcox Jackson, who's never been part of a dragon boat team before this year.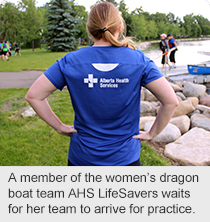 "It was great to be part of pulling the AHS crews together this year. We started out with a small committee, back in January, to look at the feasibility of having an AHS crew. We sent out a staff e-mail to gauge interest and got a flood of responses right away.
"We see our dragon boat teams as fine examples of staff engagement. Our team bio says 'Healthcare employees and friends, working and playing together to improve health every day,' because we believe in more than just talking the talk. We want to walk the walk and our paddlers were out there practicing together rain or shine and yes, did it rain!"
Wilcox-Jackson says the new teams boast paddlers from all areas of health care - nursing, security, lab, quality and allied health to name just a few.
"There are some people participating who work in the same department, but the majority of the crew is new to each other, which has opened up opportunities to form new friendships."
The ATB Financial Lethbridge Rotary Dragon Boat Festival, established in 2002 with 17 teams, has grown into an international affair attracting more than 60 teams. It has become one of the most popular dragon boat events in Western Canada, drawing about 20,000 spectators for each of the three days.