More than a store selling treats, greeting cards and toiletries, it's the place to meet
Story by Kerri Robins; photo by Terry DeVisser
It would not be overstatement to say the Tuck Shop at the CapitalCare Strathcona continuing care residence in Sherwood Park is the hub where residents gather to socialize.
"I'm there all the time," says 63-year-old resident and grandmother of four, Bernice Hartfelder.
But with a roll-up window, no room for wheelchairs and walkers, and room for only two people behind the counter to sell its wares, the Tuck Shop has long been bursting at the seams.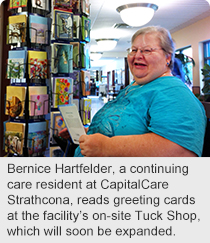 The good news is the CapitalCare Foundation has raised more than $25,000 (and counting) to renovate an adjacent space by tearing down the wall between the two rooms to increase the size of the shop. There will be space for two tables, each with two or three chairs or wheelchairs. The roll-up window will be renovated into a cafe-style counter space.
The concession sells candy, pop and chips and a few toiletries. It's volunteer-run and the best part is its great social atmosphere.
And with help from Scotiabank, which is matching donations to the tune of $6,000, residents and staff can now look forward to their new Tuck Shop.
"Our little Tuck Shop is a real community where the residents can gather and participate in life," says Liz Tanti, CapitalCare Strathcona administrator.
"Having a larger space where people can socialize is critical, not only for families in general, but for our residents in particular — especially those who might be more isolated. The new space will accommodate some tables and chairs so people can sit and visit and really stay connected to the community they live in."
Hartfelder is pleased the renovations are going forward.
"I buy a lot of things from the Tuck Shop, like greeting cards and some toiletry items," she says. "I'm looking forward to the new shop, not only because it'll be able to stock a lot more of the supplies that I need, but it'll be a nice place to sit and visit with my family."
And it isn't just residents who love the Tuck Shop.
"It feels like family here and I like visiting with everyone," says Hannah Van Halderen, a 23-year-old volunteer who works there on Fridays.
The initial drawings and renderings are complete and the foundation is going to put the work out to tender by the end of this summer with a goal of having renovations finished for Christmas 2014.
Sherry Schaefer, Director of Fundraising and Donor Relations for the CapitalCare Foundation, says she's excited about the renovations and the additional benefits it will bring to residents.
"It's important to keep our seniors connected and engaged," says Schaefer. "A social gathering place is critical so residents can visit with their loved ones much as they would in the community. We are fortunate to have both private and business support — like Scotiabank — that recognizes this need."
For more information, please visit www.capitalcarefoundation.net.