New, leading-edge Allan H. Owen Endoscopic Suite focuses on comfort
Story by Sharman Hnatiuk | Photo by Stephen Wreakes
Routine colonoscopies aren't a procedure Fernando Pisani enjoys but, after touring the new patient-friendly Allan H. Owen Endoscopic Suite at the University of Alberta Hospital (UAH), he feels hospital visits to monitor his ulcerative colitis will be more comfortable.
"This is truly an amazing first-class facility," says the former Edmonton Oilers forward. "You can see it should make the experience a lot easier for patients needing endoscopic procedures."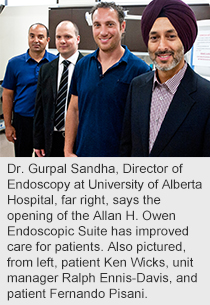 Until last year, patients requiring endoscopic care at the UAH were registering, prepping, receiving procedures, and recovering in different areas of the hospital. That's because the number of physicians and their caseloads had significantly outgrown the old unit, built in 1982, which was designed to accommodate only four physicians.
Since opening in June 2013, more than 10,000 patient visits have taken place in the new $15.5-million suite.
Now, patients who require gastroenterological and pulmonary endoscopic procedures in Edmonton have access to the most sophisticated suite in the country. The new unit, equipped with 10 procedure rooms, allows staff to prepare patients for surgery and for patients to recover in the same area where all endoscopic procedures are performed.
"This suite is miles ahead of anything we've seen before and the patient flow is streamlined, making it more relaxing and user-friendly for those coming in for a scope," says patient Ken Wicks.
Endoscopic procedures involve an instrument being used to examine the interior of a hollow organ or cavity of the body; however, unlike most other medical imaging devices, endoscopes are inserted directly into the site.
During the procedure, physicians can investigate symptoms in the digestive or respiratory tract, confirm a diagnosis such as colon cancer or celiac disease, and treat by cauterizing a bleeding vessel or removing a foreign object.
"Within one centralized unit, we have consolidated resources and expertise into the most technologically advanced endoscopic suite in the country," says gastroenterologist Dr. Gurpal Sandha, Director of Endoscopy, UAH.
"Our new procedure rooms and layout make it safer and more efficient for staff and physicians, and having all services in one space has greatly improved the patient experience."