Dr. Noseworthy has improved health policy, service delivery
Story by Kristin Bernhard
An Alberta Health Services (AHS) employee has received national recognition for his 41-year career as a physician, researcher, policy-maker and health care leader.
Dr. Tom Noseworthy is the 2014 recipient of the Canadian Institutes of Health Research (CIHR) Barer-Flood Prize for Health Services and Policy Research, a career achievement award that celebrates outstanding contributions in the field of health services and policy research.
"I actually thought maybe they got it wrong when they informed me that I had won, but it is a true honour, one for which I am most thankful," says Dr. Noseworthy, the Associate Chief Medical Officer for Strategic Clinical Networks at Alberta Health Services (AHS). He also serves as Professor of Health Policy and Management in the Department of Community Health Sciences and the O'Brien Institute for Public Health at the University of Calgary.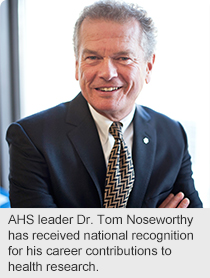 "I have had many wonderful opportunities as a physician to be involved in many aspects of the health care system, including research. Receiving this award is a testament to the value that CIHR places on the many different facets of research and its relationship to health care."
Dr. Noseworthy was recognized for his contributions to health policy development and health care delivery in Canada. His work has focused on improving quality and access to care, minimizing wait times, and using and assessing technology in health care.
CIHR is the Government of Canada's health research investment agency. Its mandate is to promote and support research that will improve health services and products, as well as the overall health of Canadians.
Rona Ambrose, Federal Minister of Health, and Stephen Mandel, Alberta Minister of Health, presented the prize to Dr. Noseworthy at a reception for delegates attending the Federal, Provincial and Territorial Health Ministers' Meeting in Banff on Sept. 30.
"I try to take the research and the body of knowledge that we use today to enhance patient outcomes," says Dr. Noseworthy, who joined AHS in 2011. "I want to help improve health policy, clinical practice and patient outcomes."
AHS President and CEO Vickie Kaminski congratulates Dr. Noseworthy for his tireless dedication and commitment to Albertans.
"It gives all of us at AHS great pride when one of our own receives such a high honour for their outstanding work," says Kaminski.
Dr. Noseworthy's research has been published in more than 100 papers and book chapters.
In 2005, Dr. Noseworthy was awarded the Alberta Centennial Medal for contributions to health care and was also named as one of Alberta's Top 100 Physicians of the Century.
In 2007, he was appointed by the Governor General as Member of the Order of Canada for contributions to health policy and Medicare.
In 2012, he received the Diamond Jubilee medal in recognition of contributions to health care.
Last month, he was named to the Institute Advisory Board for the CIHR Institute of Health Services & Policy Research.