Young patients have a great time playing against NHL squad
Story by Janet Mezzaroba; photo by Colin Zak
The Townsend Tigers of Alberta Children's Hospital's Gordon Townsend School extended their domination over the Calgary Flames after a 16-1 thumping in the 34th annual wheelchair hockey game on Nov. 17.
The Tigers remain undefeated against the National Hockey League squad since this showdown began in 1980.
"Playing hockey with these guys is so fun," said five-year old patient Maxim Aucoin, who scored two goals. "The Calgary Flames helped me play really well."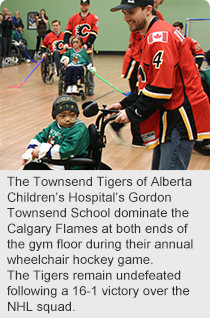 The Tigers dominated at both ends of the gym floor and, following the game, were awarded the championship trophy by pediatric cardiologist Dr. Frank Dicke and Gordon Townsend School principal Shelagh Reading.
Flames captain Mark Giordano was looking on the bright side following another lopsided loss at the hands of the Tigers.
"Despite a tough loss today, this event is all about spending time together as a team and with the kids," said Giordano. "It's a chance for the kids to have some fun while helping them take their minds off the day-to-day routine of being in hospital."
Giordano was joined by a full Flames lineup, including top rookies such as Johnny Gaudreau and Josh Jooris, and some injured players who returned to action for this game only, such as centres Matt Stajan and Sam Bennett, and winger Mason Raymond.
Giordano says the Flames vow to train even harder in preparation for the 2015 game.
The Calgary Flames are an ongoing supporter of the Alberta Children's Hospital, with funds from the Flames Foundation for Life and the Rotary Clubs of Calgary helping to build Alberta's first hospice for children.
Situated next door to the Alberta Children's Hospital, Rotary Flames House helps families in need of respite and palliative care for their children with medically complex and life-limiting illnesses.