Increasing use of simulation gives more learning opportunities for staff
Story and photo by Mark Evans
The QEII Hospital's newest patient, Hal, is helping staff at the hospital check up on their own skills.
Hal is a new patient simulator that arrived at the hospital on November 18. Along with his fellow simulator, Noelle, Hal is part of a recent increase in the use of simulation across the North Zone to improve health care and increase patient safety.
Since April 2012, Rhonda Shea, Simulation Consultant for the North Zone, has crisscrossed the Zone with a second Hal simulator and other simulators of various capabilities, going where ever there are opportunities to assist teams with education and quality improvement initiatives.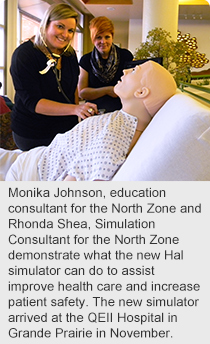 "Anything we can possibly do to assist a site we will do," says Shea of the eSIM program, which stands for Education, Simulate, Innovate, Motivate.
In addition to the new simulators at the QEII, seven other Noelles – which can also simulate delivering a baby – have been placed in communities around the Zone.
Shea takes the simulators right into the facilities where staff work, allowing them to use the actual equipment and supplies they use in their everyday practice, making it a real-life experience for those involved.
Part of AHS's Quality and Health Care Improvement department, eSIM works directly with facilities as well as clinical nurse educators and quality improvement consultants around the Zone to address areas where improvement can be made through additional training and education, reviewing processes and testing communication between health-care providers.
Not just restricted to acute care sites, simulators have been used in Seniors Health and Public Health facilities as well. In Public Health they've been used to roll out new anaphylaxis kits, train staff to use automated external defibrillators (AED) and respond to adverse reactions.
"While these events are rare and some staff may never experience them, they do need to have the skills and the simulators provide a safe way to practice," says Shea.
At the QEII, Shea, along with Monika Johnson, education consultant for the North Zone and hospital's simulation consultant, are piloting new projects to further expand the integration of simulation into health-care practice.
"There's so much more than learning the actual skills involved," explains Johnson, who works with the Quality Safety Education and Training program. "Simulation provides the opportunity to identify breakdown in communication and 'real time' assessment of process.
"Is the equipment in the right place? Are you communicating with the right people?'"
Recently the simulator was used to practice calling a code in the Intensive Care Unit to evaluate any time lags in the communication process to bring the needed physicians and staff together. It gave the teams in the hospital valuable knowledge about where improvements to care and patient safety could be made.
"It provides us a safe environment to practice and learn from each other." says Johnson.
"QEII Hospital leadership, the Nursing Education department and all the staff are strong supporters of the use of simulation to improve care in the facility."