Festival booster bonds with community - Nova Scotia native gives back to Wood Buffalo
Story by Kerri Robins; Photo courtesy Northern Lights Health Foundation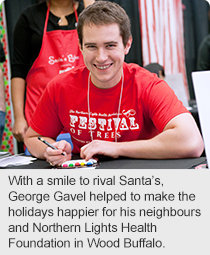 FORT McMURRAY — "When I moved here, I wanted to use my spare time to get out in the community and meet new people. Volunteering has done just that," says George Gavel, a volunteer for the Northern Lights Health Foundation.
Close to 300 volunteers, including Gavel, graciously gave of their time to support this year's Health Foundation Festival of Trees, which raised $430,000 for health care in Wood Buffalo.
More than 12,000 people visited MacDonald Island Park over the course of the weekend, from Thursday, Nov. 14 through Sunday, Nov. 17.
Since moving to Fort McMurray in the fall of 2012, Nova Scotia native Gavel has given his time and cheery energy to various worthy causes as a way of connecting to others in the region.
"I've made many new friends and that likely wouldn't have happened otherwise. Plus I really enjoy doing it."
With the gift of more than 35 hours of his time, Gavel not only helped to make the Festival of Trees a huge success, but says he also gave himself a fun and memorable experience.
"The events put on by the Health Foundation play a major role in the Wood Buffalo region as proceeds go toward new equipment and programs for the health centre, so it's for a great cause," adds Gavel.
Volunteers make a great difference when they help out at Wood Buffalo's biggest annual events in support of local health care. The Health Foundation depends on community-minded individuals and groups who generously give their time, some for many years running.
During the annual Festival, Gavel helped with a variety of tasks: setting up the Santa's Workshop children's area; selling 50/50 tickets at the Ugly Christmas Sweater Party; selling teddy bears at the Tree of Hope; setting up for the 'Meet Me under the Mistletoe' Gala; and manning various fun stations in Santa's Workshop.
Says Gavel: "My favourite part was seeing how excited the kids were to see Santa and helping them take part in all of the crafts that were set up."
Volunteers like Gavel reap a variety of personal benefits, from gaining work experience and networking to developing social skills, as they enrich both their lives and the lives of others.
"I had a great time throughout the Festival," says Gavel, "and I'm looking forward to the next event already."