Alberta Children's Hospital to open 14-bed unit Feb. 26
Story and Photo by Janet Mezzarobba
The Alberta Children's Hospital in Calgary is now home to a new neonatal intensive care unit (NICU).
The 14-bed Edwards Family NICU, named after donors Murray and Heather Edwards, is located on fourth floor of the Alberta Health Services (AHS) facility, and will operate as a Level 3 NICU, caring for some of the most critically ill newborns in southern Alberta.
"Newborns requiring surgery or complex care by many specialists can now be transferred to the Alberta Children's Hospital NICU where they will be monitored and cared for by neonatologists, pediatric surgeons and other specialists in one location," says Francois Belanger, AHS Vice President and Medical Director for central and southern Alberta, and Zone Medical Director for the Calgary Zone.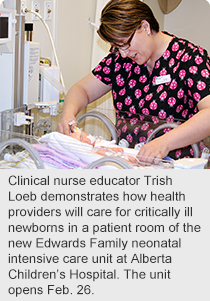 In addition to providing more Level 3 NICU beds in southern Alberta, the ACH NICU provides specialized care for pre-term and term newborns requiring cardiac and surgical care. It is the only NICU in Alberta with private rooms.
There are now a total of 129 NICU beds in the Calgary Zone: 27 Level 2 beds at the Peter Lougheed Centre; 33 Level 2 beds at the Rockyview General Hospital, 16 Level 2/3 beds at the South Health Campus, and 39 Level 2/3 beds at Foothills Medical Centre.
Funding for this project totalled $10.9 million, with $5 million donated from the Edwards family. The Edwards Family NICU is a partnership between AHS, the Government of Alberta, the Alberta Children's Hospital Foundation, and the N. Murray Edwards family.
"It is such a privilege to be able to help families and their newborn babies in this way. This is very personal for us, stemming from our own experience with our son who needed neonatal intensive care when he was born eight weeks early," says Heather Edwards.
"We look forward to seeing how this new unit enhances care for these young patients, and helps create an environment that is better for staff and less stressful for families."
The first neonatal patient will be treated in the new Edwards Family NICU on Feb. 26.