Ex-Vivo device used to repair donated lungs before transplant
Story by Sharman Hnatiuk
Karen Hamilton is looking forward to a new life, one where she can enjoy the simple things, such as getting up to have breakfast with her 22-month-old twins, Emma and Lily.
New technology has given her new hope.
Earlier this year, the 29-year old mother from Taber got the call from the Human Organ Procurement Exchange (HOPE) Program at the University of Alberta Hospital (UAH) that she was a match for donor lungs. The lungs were initially damaged, but repaired outside of the body using a portable Ex-Vivo lung perfusion device based at the University of Alberta Hospital in Edmonton. Hamilton received the repaired lungs.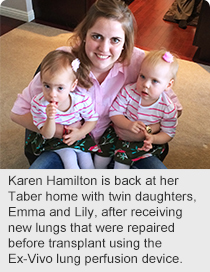 "My life has done a 180 since the transplant," says Hamilton, "I can begin looking forward to a future with my family."
Hamilton was born with cystic fibrosis, a multi-system disorder that produces a variety of symptoms, including persistent cough with thick mucous, wheezing and shortness of breath, and frequent chest infections which may include pneumonia. The persistence and ongoing infection in the lungs, with destruction of lungs and loss of lung function, eventually causes death in the majority of people who have cystic fibrosis.
"Before the transplant, I would have to take medication and cough for an hour and a half to clear my lungs each morning," says Hamilton. "I needed to rely on the generosity of others to help care for my children every day."
When Hamilton was actively listed on the transplant list, she was warned that it could be two years or longer before a match became available. However, in January, just three months after being listed, surgeons used the portable Ex-Vivo lung perfusion device to repair damaged donated lungs that were compromised by a blood clot.
"Previously, we would have turned down a donor with a large blood clot lodged in the lungs," explains Dr. Jayan Nagendran, surgeon and Director of Research, Division of Cardiac Surgery at the University of Alberta Hospital / Mazankowski Alberta Heart Institute.
"However, with this technology we were able to successfully dissolve a blood clot in the lungs with a clot-busting drug outside of the body on the Ex-Vivo lung perfusion device and transplant the lungs from an otherwise healthy donor successfully into Karen."
After months of rehab, Hamilton is now home with her daughters.
"I was mentally prepared to wait two years, but also aware that I might not get to see my daughters grow up if there wasn't a donor for me," says Hamilton.
"I know that a family lost their loved one and, as a consequence, I could receive this new gift of life. I am so thankful and blessed they made that selfless decision during a tragic time in their lives."
The Ex-Vivo device is a game-changer, adds Nagendran.
"On average, we only accept one in every four lungs offered to our program," he says. "While some organs could never be deemed suitable, some damaged organs are declined because of potentially reversible causes or because of the length of time it would take to retrieve them. But thanks to this technology, we are able to collect and make an organ that had been rejected by another transplant program suitable for a patient who was very sick and had no other options."
Eight sets of damaged lungs were repaired and made suitable for transplants using the device in the past year.
There are currently about 60 people actively listed for lung transplant within the program. Approximately one in three patients will die before lungs become available.
An Ex-Vivo program has been established through a partnership between Alberta Health Services (AHS), the University of Alberta's Faculty of Medicine & Dentistry's Alberta Transplant Institute, and the University Hospital Foundation. The University Hospital Foundation contributed $350,000, and the Alberta Transplant Institute $250,000, to help launch the Ex-Vivo program.