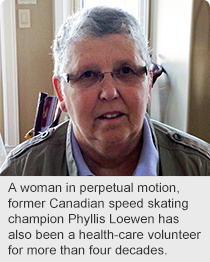 Speed Skating Canada Hall of Fame member Phyllis Loewen has been skating on team health care for more than 40 years — and has no intention of slowing down now.
"Some of my fondest memories come from volunteering my time on behalf of young people, children and babies," says the 68-year-old retired recreational therapist and grandmother of three boys.
"There was no dedicated pediatric wing at the Red Deer Hospital for some years," she says, "and I saw so many areas where kids needed help."
Having volunteered at Red Deer Regional Hospital Centre for much of her career, Loewen has a soft spot in her heart for helping out in many capacities.
Formerly from Edmonton and now living in Rocky Mountain House, this active grandma worked for more than 20 years in recreational therapy at Rocky Mountain House. Still skating laps for health care, Loewen is currently a member of the Rocky Mountain House Hospital Auxiliary, the Rocky Mountain House Hospital Donations Committee, the Rocky Mountain House Hospital Gala Committee and, until recently, the David Thompson Health Trust.
"I sat on the board at the Health Trust for eight years and was chair of the Rocky Mountain House Hospital Donation Committee during most of that time," adds Loewen.
"We raised a lot of money for some large projects for the Rocky Mountain House Health Centre including over $150,000 which helped purchase new beds and neo-natal incubators for newborns and preemies."
In fact, Loewen proved instrumental in helping the health trust in Rocky raise more than $1.2 million during her eight-year tenure there.
Speed skating since she's been 10-years-old, Loewen was selected to the Olympic Canadian Speed Skating team for the 1968 winter Olympics in Grenoble, France.
"Because of politics at the time, I didn't end up skating, but the experience was incredible and it didn't do any harm to my career in coaching," says Loewen.
Starting a speed skating club in Red Deer in 1988, this swift lady was inducted into the Canadian Speed Skating Hall of Fame in 1982, and the Alberta Sports Hall of Fame in 1999.
Recreational therapy seemed a natural fit for Loewen, also a former European handball player and cyclist. "I retired in 1971 and started coaching in 1977 in Red Deer because I missed it and wasn't ready to hang up my skates completely," says Loewen.
Corrie Fortner, Executive Director of the health trust has had the pleasure of working with Phyllis over the years. "Her role as community leader and advocate for health care has made a real impact on patient care, and she is always ready to roll up her sleeves and get the job done. It's always a real treat working and socializing with Phyllis."
"I still have a lot to offer our health care system and being involved not only keeps me active but it's gratifying to see how much the hospital benefits from volunteers' time and the money they help raise," says Loewen.
Please visit www.davidthompsonhealthtrust.com or www.albertahealthservices/give to make a donation or to inquire about volunteer opportunities.
Phyllis Fitzgerald-Loewen was born in Mallaig, Alberta, where she first started skating on ponds. In 1957, at the age of 11, she began her speed skating career with the Red Deer Lions Speed Skating Club. That year, Phyllis won Canadian Indoor – Outdoor Champion in Winnipeg. From 1958-1970 she was Canadian Indoor – Outdoor Champion in each of the different age categories.
In 1964, Phyllis set four records at the Canadian Outdoor Championships, including a time of 19.3 seconds in the 220 yard outdoor event that still stands today.
In 1970, at her last competitive meet, Phyllis set two Canadian indoor records – one in the 880-yard competitions, the other in the 440-yard competition. She celebrated the end of her speed skating career with victories in four major events, including the 1-mile and 5/4-mile distances.
In total, she has won 13 indoor and 10 outdoor Canadian championships. She has also won five international championships. While she has won three more indoor Canadian titles than outdoor, she broke nine of her 11 indoor records on outdoor tracks. Her five outdoor records were set in 1968.
Since retiring from competition, she has turned her talents to coordinating, coaching and officiating speed skating. Phyllis has her Level 3 National Referee for Speed Skating in Canada. She officiated speed skating events at the 1988 Winter Olympics and has continued to promote the sport by helping organize speed skating events at the 1992 Alberta Winter Games in Fort McMurray.
From 1992 on, Phyllis has worked in administrative positions with Alberta Speed Skating Association. These include Vice-President of ASSA with Advanced Programs and President of ASSA.
In 1988, she was selected for a sports exchange to China for coaching. She also started the Rocky Mountain House Speed Skaters Club and still continues to coach and advise.
— Town of Rocky Mountain House