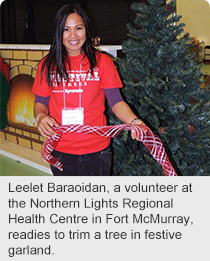 "I was in the hospital (Northern Lights Regional Health Centre) one day and saw how busy the Health Foundation office was," says Leelet Baraoidan, a graduate of medical office services. "I'm trained in clerical work such as Excel spreadsheet and filing, and I knew I could help."
"Volunteering with the Northern Lights Health Foundation has been a very fun and rewarding experience," says Baraoidan, who has been helping through the Health Foundation since September 2013.
During her time there, Baraoidan has proven invaluable, spending several months in the Health Foundation's office, often putting in full days Monday to Friday to take on various tasks. Her broad skill set has certainly been put to use — and she's happy to help.
"In addition to clerical work, I've also helped out the Health Foundation by volunteering my time to the Festival of Trees and other fundraising activities — such as the Health Foundation-supported popcorn sales in the hospital every week," she says. "I've also volunteered in other areas of the hospital when I'm needed."
Baraoidan moved to Fort McMurray in July 2013 when her fiancé moved here to open a regional office for his employer, a heavy construction company.
Baraoidan says she enjoys living in Fort McMurray.
"I love the long summers and experiencing life in Northern Canada. I even like the winters!"
Hailing from the Philippines, and after living a while in Ontario, Baraoidan now enjoys the multicultural feeling of Fort McMurray. "It's nice to see how unique Fort McMurray is in that way," she adds. "There are so many diverse groups that live and work here."
Baraoidan says volunteering for the Health Foundation and the Health Centre is a great experience.
"You get to make so many new friends, gain great work experience and build social skills," she says. "Others should really consider volunteering for the Health Foundation and the hospital. It's so much fun helping the staff and patients."
Volunteers like Baraoidan make a positive difference in everyone's lives — patients, Health Foundation and Health Centre staff alike.