Website improves access to prevention strategies, resources
Story by James Stevenson
Alberta Health Services (AHS) has launched a new campaign to bring Albertans together to reduce the risk of cancer in the province by up to 50 per cent.
Funded through the Alberta Cancer Prevention Legacy Fund (ACPLF), the campaign connects Albertans with a new website, albertapreventscancer.ca, and encourages Albertans to consider what they would do with their lives and loved ones if they had more time together.
"We heard from Albertans loud and clear that they are concerned about the impact of cancer on themselves, their loved ones and their communities," says Dr. Gerry Predy, AHS Senior Medical Officer of Health.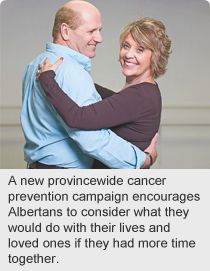 "But many people are unaware of how much we can do together to reduce the risk of cancer. The reality is that about 50 per cent of cancer is caused by factors we understand and can influence -- factors such as eating well, maintaining a healthy weight, avoiding tobacco, and limiting alcohol and ultraviolet radiation.
"The best results in cancer prevention occur when people and organizations work together to influence those factors and create communities that support healthy living. The campaign is a first step toward raising awareness of what is possible."
The new website increases Albertans' access to information and proven strategies for making the everyday choices that make a big difference. The website also connects Albertans to the programs and clinical supports already offered throughout the province, such as cancer screening, cancer-preventing vaccine programs, and help with stopping smoking.
"Preventing cancer in Alberta is achievable, but it requires working together on everything from the way we build communities, to the way we run workplaces, to the way we deliver health care services," says Predy.
"AHS is committed to supporting cancer prevention and screening in all these areas. The Government of Alberta's support through the Alberta Cancer Prevention Legacy Fund is making that easier. Through a co-ordinated approach with communities, workplaces, and health care providers, the ACPLF is helping determine which innovative strategies work best to reduce the risk of cancer in Alberta."
Currently, an estimated 16,000 new cancer cases are diagnosed every year and about one in two Albertans will develop cancer in their lifetime.
"Research continues to show that a vast number of cancers can be prevented or caught at early more treatable stages," says Dr. Paul Grundy, Senior Vice President and Senior Medical Director for CancerControl Alberta with AHS. "Raising awareness and working together to lower the odds of developing cancer makes sense."