Children honoured for calmness, 911 smarts
Story by Kerri Robins; Photo courtesy of EMS Foundation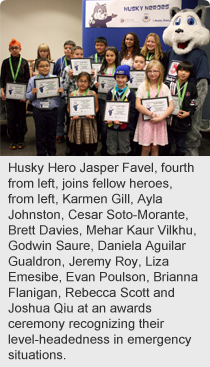 When his dad collapsed last October, Jasper Favel took charge.
The 10-year-old immediately dialed 911 and calmly provided enough information that the emergency communications officer (ECO) quickly diagnosed a suspected stroke.
During his phone call, Jasper worked with emergency services through to physicians at the hospital to give everyone the information needed to treat his father.
"I was very proud of Jasper. He did everything right to save me," says his father Gerald Favel.
The Okotoks youth is among 14 Husky Heroes who were honoured for their quick thinking and action in crisis situations in 2013 at the most recent Husky Heroes event.
The annual event is a joint celebration, supported and hosted by the Emergency Medical Services (EMS) Foundation and sponsored by Husky Energy. Partnering with The City of Calgary Public Safety Communications (Calgary 911), the Husky Heroes Program started six years ago with its goal to educate young people on the proper use and access of 911 services in Calgary.
Over the years, the program has recognized 52 children, ages 3 to 12, who acted calmly in an emergency. It acknowledges these kids as being a vital link between 911 ECOs and someone in need.
"Educating our youth on what 911 is and why it's important helps kids stay calm and think clearly in an emergency," says Lisa Barrett, Executive Director of the EMS Foundation.
"That certainly helps keep kids from feeling overwhelmed."
The EMS Foundation supports education, research, equipment, and injury prevention programs.
Stuart Brideaux, Public Education Officer with Alberta Health Services, agrees that emergency education is key for young people.
Brideaux works with youth and provides training, along with opportunities for youth to interact with emergency services personnel.
"Youth learn about 911 services through emergency services personnel who visit schools and community groups and provide age-appropriate resources like activity pages and a Husky Heroes poster," says Brideaux.
For more information, please visit www.emsfoundation.ca