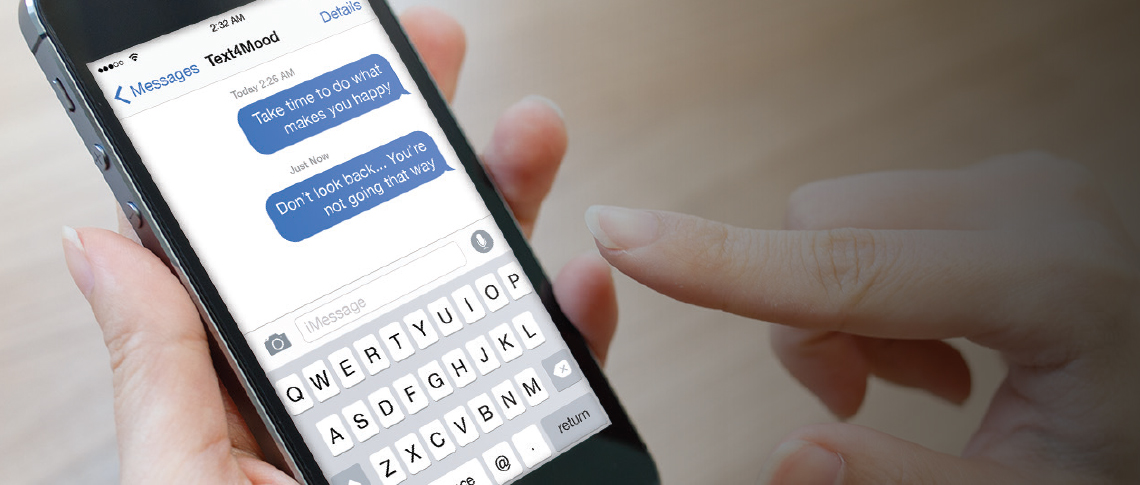 Northern Albertans can now enjoy supportive text messaging service
Story by: Lisa Laferriere
We all know even a nugget of encouragement — be it a kind word from a co-worker or a broad smile from a stranger — can make your day a whole lot better. Now, thanks to Alberta Health Services (AHS) and its partners, positive words of support can be delivered right to your smart phone each and every day.
Text4Mood, a text supportive text messaging program, was launched mid-January in northern Alberta by Dr. Vincent Agyapong, an adult psychiatrist in Fort McMurray and Associate Clinical Professor with the Department of Psychiatry at the University of Alberta, in partnership with AHS North Zone Addiction and Mental Health.
From the age of 15, Fort McMurray resident Candace Hawco, now 37, has lived with depression. As a patient of Dr. Agyapong, she accepted his invitation to take part in the program's trial period.
"I love it," says Hawco. "There are days where I feel low, my phone dings and, when I look, it'll be a positive message. I look forward to receiving them. They're encouraging, motivating and help me keep going."
Participants in the Text4Mood program receive one or two positive text messages every day to remind them, for example, that sometimes it's okay to feel down — and that better days are ahead.
While designed to help people with mental-health issues, including depression and anxiety, the program welcomes all northern Albertans to sign up.
"One of the biggest benefits of this program is that the support is immediate and can act as an intervention while a patient is, for example, between appointments or receiving other care," says Dr. Agyapong, whose research partners at the U of A are helping him monitor and evaluate the effectiveness of the program.
Debra Samek, Director, Addiction and Mental Health for AHS North Zone, Northeast, says the program is not intended to replace therapies or interventions, but is rather another added support to someone's overall care plan.
"We see a lot of people who are struggling with depression and this is just another service to offer them," says Samek, who adds that the service is private and confidential.
Residents can text "MOOD" to 7606703130 to sign up for the program. Call Health Link at 811 or visit ahs.ca for more information about mental health services in your area. A small, one-time sign up fee may apply depending on each individual's cell phone plan.
Related Resources
Contact numbers for Mental Health Clinics North Zone, see brochure: