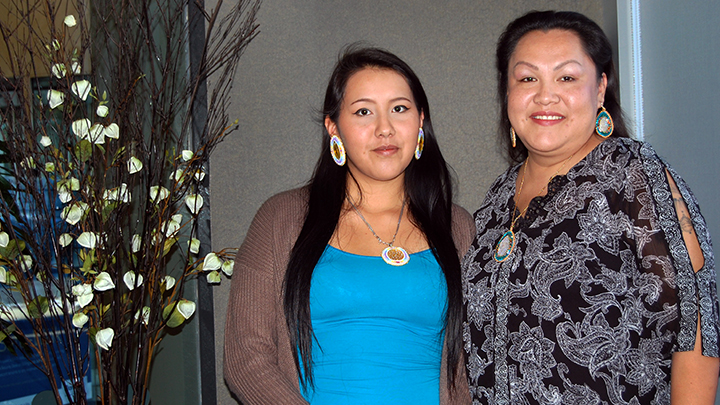 $1.3M pledged to improve maternal health in Edmonton, Maskwacis and Little Red River Cree Nation
Story and photo by Kristin Whitworth
A fresh initiative to improve maternal health of indigenous women in Edmonton, Maskwacis and Little Red River Cree Nation is underway thanks to a partnership with the pharmaceutical giant Merck Canada Inc., Alberta Health Services (AHS) and Alberta Innovates (AI).
Thanks to $1.3 million in funding — with $1M from Merck Canada Inc. and the Merck for Mothers program plus $300,000 from AI — AHS and Merck Canada have teamed up to give Alberta's Indigenous mothers better access and quality of care.
One who knows first-hand how vital appropriate maternal services are is Nicole Eshkakogan, AHS Manager of the Aboriginal Health Program, Population, Public and Aboriginal Health, for Southern Alberta.
"I was a mother at 16 and without programs that help to support me with access to opportunities such as the ones provided by MERCK and Alberta Health Services, I might not have been able to finish high school and have made it all the way to post-graduate studies," she says.
Eshkakogan adds she was able to acquire the necessary skills and experiences to become an independent researcher and evaluator, a role where she influences change for Indigenous people across Canada through her past work and in her current leadership position at AHS.
"I, for one, am very proud of the fact that despite our colonial history and immense challenges that we have today we are still the fastest-growing population having the most babies in Canada," says Eshkakogan. "This is something to be celebrated and is a clear sign of our resilience in the face of incredible adversities that we encounter."
The three communities will benefit from the new funding through enhanced quality of prenatal care closer to home, culturally grounded education and peer support in the weeks before and after birth, as well as improved care coordination and evaluation.
Pride in Indigenous culture, sharing of traditions and cultural wisdom will also be promoted to strengthen the overall care and support of Indigenous mothers.
Dr. Verna Yiu, President and CEO, Alberta Health Services, adds: "Alberta Health Services is very proud to partner with three unique communities, Merck, and Alberta Innovates, to help improve outcomes for Indigenous women and their newborn children."
"We want all mothers to have access to the best care and support when they are bringing their babies into this world," says Yiu. "We want healthy babies, and healthy families."
Dr. Pamela Valentine, Alberta Innovates Transition CEO, says: "There is power in partnership and Alberta Innovates is pleased to play a role, alongside Merck and Alberta Health Services". The Maternal Newborn Child and Youth, and Population Public and Indigenous Health Strategic Clinical Networks are stewarding this work forward.
"Healthy mothers and healthy babies are the foundation of strong communities. By working alongside our partners, we hope to improve maternal and child health, which ultimately will lead to healthy communities."
Chirfi Guindo, President and Managing Director, Merck Canada Inc., says: "Merck believes that maternal mortality is a critically important issue and is applying its resources and expertise in projects globally that we believe will have great impact on ending preventable maternal deaths."
Alberta is home to more than 220,000 people descended from First Nations, Metis and Inuit peoples, the third largest Aboriginal population in Canada. They live on one of 140 designated reserves, in urban centres or in rural and remote communities. Regardless of place of residence, in Alberta the perinatal mortality rate in the First Nations population is 7.1 per 1,000 births, compared to 4.1 per 1,000 births in the non-indigenous population.
Globally, statistics reveal that nearly 800 women die every day during pregnancy and childbirth. Most of these deaths are preventable when women have access to quality maternal healthcare before, during and after childbirth.
When a woman survives pregnancy and childbirth, her family, community and nation thrive. When a woman dies, the ripple effect on families and communities is enormous.
Her baby is 10 times more likely to die before the age of two and her other children are up to 10 times more likely to leave school, suffer from poor health, or die prematurely.
"The death of a woman from complications during pregnancy and childbirth is one of the world's oldest and most preventable global health tragedies," said Dr. Naveen Rao, Lead, Merck for Mothers.
"We are proud to support Alberta Health Services on this new program that will help strengthen maternal health services in Alberta and help save more women's lives."
To learn more about Merck for Mothers, visit: http://merckformothers.com